With the raging pandemic, various projects of Stepping Stones have faced huge challenges in the past month. The project managers, volunteers, students, parents, partner organisations and schools have joined hands and worked hard to adjust our curriculum models in a short period of time. Check out what progress Stepping Stones made in March!
---
Shanghai English Teaching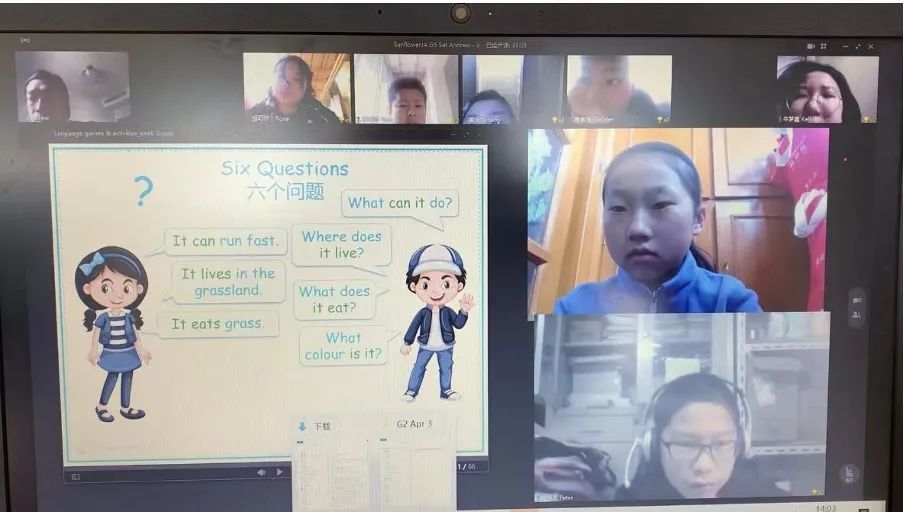 No. of Volunteers: 60
No. of Lessons: 301
No. of Students: 475
No. of Teaching Sites: 14
Program Highlights
After Shanghai went into lockdown due to the pandemic, we transitioned 86% of the community centre classes to online, thanks to the solid support of volunteers and partner organisations. Our class size is small, with each class consisting of 1 teacher and 8 students, so that each student has enough interaction opportunities in the classroom.
We conducted 3 online demo classes and invited new volunteers to participate.
We observed 39 classes and respectively gave feedback to volunteers.
How has the pandemic impacted the program?
Offline courses had to be converted to online.
Projects in migrant kindergartens and primary schools had to be suspended.
How has the pandemic impacted disadvantaged children? What support do they need?
The support that disadvantaged children need the most is for us to return to in-person teaching as soon as possible.
What difficulties have volunteers and children encountered?
There are many challenges to transition from offline to online classes in a short period of time, ranging from volunteer communication to further training of volunteers. Also, we needed to double check the online course registration with the students at each teaching site.
Challenges and Plans
We met many challenges in volunteer communication and training in the process of converting to online teaching.
The next step is to increase the frequency of class observations as a way to give more support to volunteers and improve the quality of online courses.
---
Home Classroom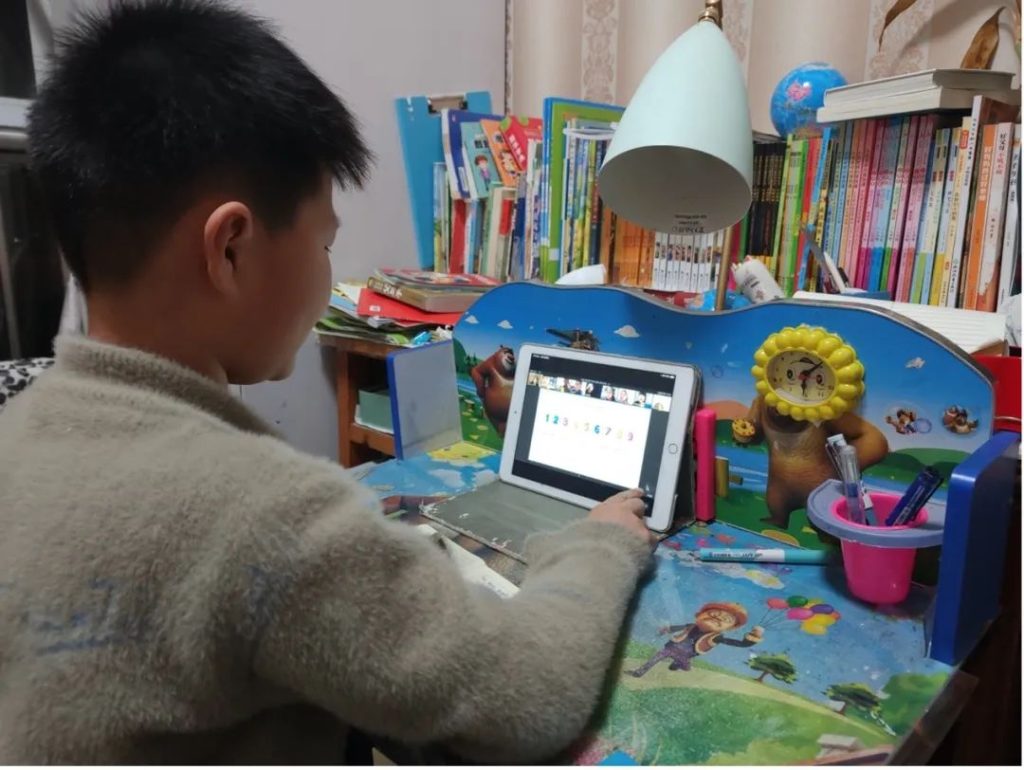 No. of Volunteers: 152
No. of Lessons:112
No. of Students: 605
No. of Teaching Sites: 12 schools in Xin'gan County, Jiangxi Province; Henan program sites of Shanghai Sunrise Library and Zhejiang Jiaxing Shixingzhe.
Program Highlights
The spring semester of Home Classroom (HCR) started on March 7. We continued to maintain good cooperation with the volunteer groups of 5 international high schools in Shanghai, recruiting a total of 83 high school volunteers; the university students from China Rural Education Initiative of the University of Melbourne's and NYU Shanghai continued to participate in the semester; we are also pleased that the university student volunteer teams from Chinese University of Hong Kong (Shenzhen) and Shanghai Jiaotong University have joined the Home Classroom English Program Team this semester, and the number of Home Classroom volunteer groups has gradually increased.
During the period of working from home, a total of 105 sessions of demo class and a group training have been completed. All the program volunteers for the spring semester have completed interview, pre-job training before participating in the voluntary service. It is the best way to optimise teaching quality and ensure consistency.
The program team has updated the student handbook and the working guide for the students and volunteers, which makes it easy for them to refer to when searching information. It improves the work efficiency and serves the students better.
How has the pandemic impacted the program?
Same as what we did when we established the program established. We communicate in real-time via WeChat and share documents online for information aggregation. We start meetings at fixed times, with progress reports from each section, synchronize the progress of various jobs, and discuss work problems and future plans so as to ensure the normal operation of the program. Since we might be notified to take covid tests or participate in local voluntary service during the daytime, we adjust our working timetable to work more in the afternoon and evening.d to online.
Projects in migrant kindergartens and primary schools had to be suspended.
How has the pandemic impacted disadvantaged children? What support do they need?
2022 is the third year of the program, and the repeated outbreak of the epidemic has made us once again aware of the necessity of online programs. Students cannot meet with their schoolmates, causing a lack of peer-to-peer communication. The program not only helps students to strengthen oral English through small-class oral practice, it also provides opportunities for students to communicate with their peers. In addition to English learning, we are also actively exploring more online activities to create more interaction opportunities among the students and volunteers, and help the students to relax while studying from home.
What difficulties have volunteers and children encountered?
Even though covid is here again, the program team members, volunteers and students actively prepared and participated in the class, and the program was carried out in an orderly manner. We appreciate everyone's effort for our program during this special time.
Challenges and Plans
Some students who signed up for the class did not join when the class started due to various reasons. After learning about the situation, we have communicated with teachers or parents to remind them and helped students enter the class. Due to the needs of epidemic prevention, some coordinator volunteers needed to go for nucleic acid testing during the class, and the program team members worked together to deal with such class emergencies quickly and efficiently.
The new Level 1 PPTs have been launched this semester, and have got good feedback from volunteers. Stepping Stones also introduced phonics resources for Grade 3 students. Learning videos and exercises have been updated on the WeChat public account of Stepping Stones for students to learn. At the same time, we also provided English film dubbing for Grade 5 and Grade 6 students. We hope to improve students' learning interest and increase their participation in class. We scheduled two film dubbing lessons per class this semester. At the end of the semester, we will consider whether to increase the frequency of film dubbing classes based on the feedback from students and volunteers.
Next, the program team will collect the feedback of each teaching volunteer to understand the current situation of the ongoing classes. We will also use the coordinator's summary of students' performance during the class to learn more about the program progress and continue to make the program run better.
---
School Videolink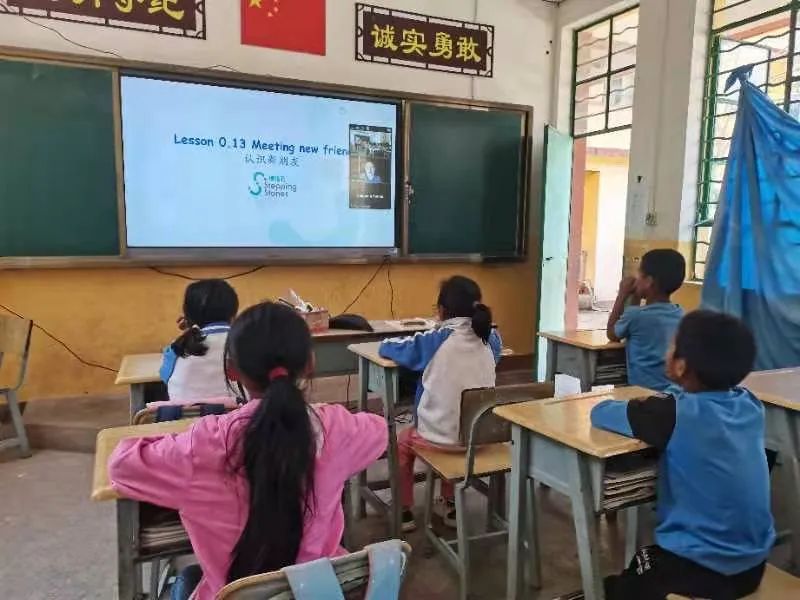 No. of Volunteers: 65
No. of Lessons:103
No. of Students: 1150
No. of Teaching Sites: 14
Program Highlights
We launched the spring term of the School Videolink (SVL) Program. The participation of volunteers from the enterprises has been increased. For some courses, we minimise volunteer rotation to support students' learning experience.
How has the pandemic impacted the program?
Three schools suspended classes due to the pandemic.
How has the pandemic impacted disadvantaged children? What support do they need?
Our beneficiaries who have been impacted by the pandemic are in Luyi, Henan Province and Nanchang, Jiangxi Province. Since the offline teaching was suspended, children have been taking online classes.
What difficulties have volunteers and children encountered?
Since many classes have been cancelled, teaching opportunities for volunteers have substantially decreased.
Challenges and Plans
We plan to start allocating volunteers after the 4 primary schools in Yunan Province reopen.
---
Stepping Up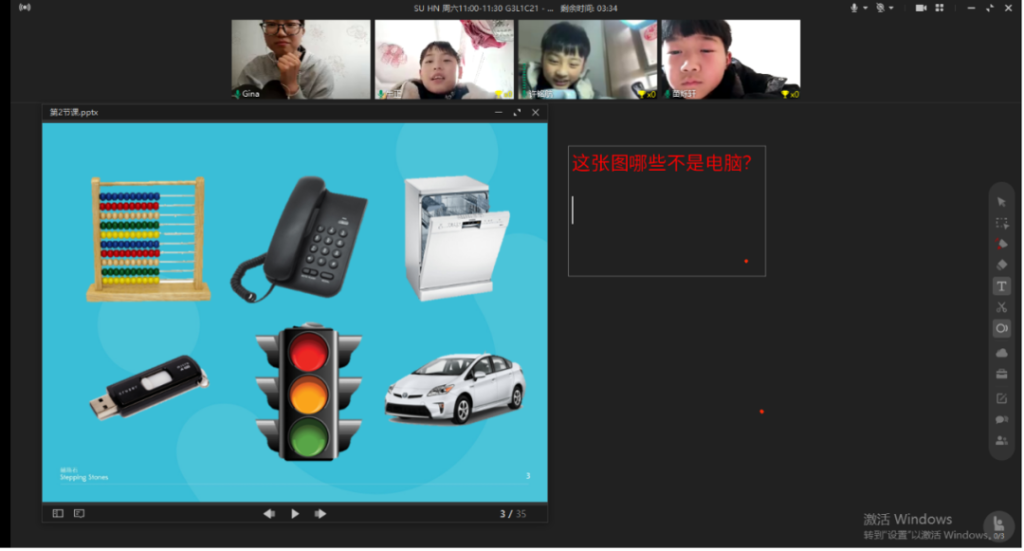 No. of Volunteers: 19
No. of Classes: 55
No. of Students: 205
No. of Teaching Sites:
8 (online)+18 (Home Classroom Program)
Program Highlights
We The pandemic caught us all off guard this month. We have converted the offline coding and creation courses, as well as the office software application courses in Shanghai community centres to online courses. At the same time, we launched a fun Home Classroom coding class, mainly for students in Henan. This course teaches coding concepts using anime characters that students love, and has been highly regarded by students and parents. Students only need to use a mobile phone to interact with teachers in a small class setting and improve logical thinking.
How has the pandemic impacted the program?
The pandemic has greatly influenced the coding and creation classes in Shanghai. The course was originally designed to be taught in person, using the development board hardware as a teaching aid. Because of COVID-19, we had to adjust the course content, using Code.org's code thinking materials as the standard curriculum. As the pandemic drags on, we are predicting the offline course will be resume during the summer vacation.
How has the pandemic impacted disadvantaged children? What support do they need?
The pandemic in Shanghai this time has had a particularly big impact on everyone, especially for disadvantaged children. They face all kinds of pressure, such as living in a relatively small space with their families for a long time, unable to go out for activities, and unable to see their peers. We think the students will be more stressed if our lesson content is difficult for them.The goal of the Stepping Stones digital literacy program has always been to improve students' enthusiasm for learning. Our online classes, especially Home Classroom classes are all 30 minutes long, with an average of 3-4 students per class. This way, volunteer teachers have more time to communicate with each student and give timely encouragement and comfort to them. These days, such humanistic concerns are more important than knowledge alone. For teaching in a small-class setting, we need more volunteers to join us.
What difficulties have volunteers and children encountered?
For volunteers, Code.org requires them to teach independently. They need more patience to watch the training videos and communicate with the project manager in time when they meet with technical problems. We were lucky to have lots of responsible volunteer teachers. With their help, we successfully converted offline courses to online in March. For some volunteers, it is particularly difficult to effectively communicate and interact with students in an online class. In such a situation,we will give volunteers some training to improve their online teaching skills. For students, they not only need to complete homework from school, but also need to devote time to participating in our courses. It challenges students in terms of their time arrangement skills, technical connections, self-discipline and active communication skills.
Challenges and Plans
We plan to start allocating voluntThe main challenge this month is to communicate with partner organisations and students' parents, to inform them of the meaning and goals of the new curriculum system, and to help them adapt to the use of the teaching platform ClassIn in a timely manner. We did not realize that in-person classes would be suspended for such a long time. The suspension led to a two-week gap in March, affecting the original curriculum plan and goals. The next step is to launch all courses in April and to recruit and train more online volunteers.
---
Curriculum Development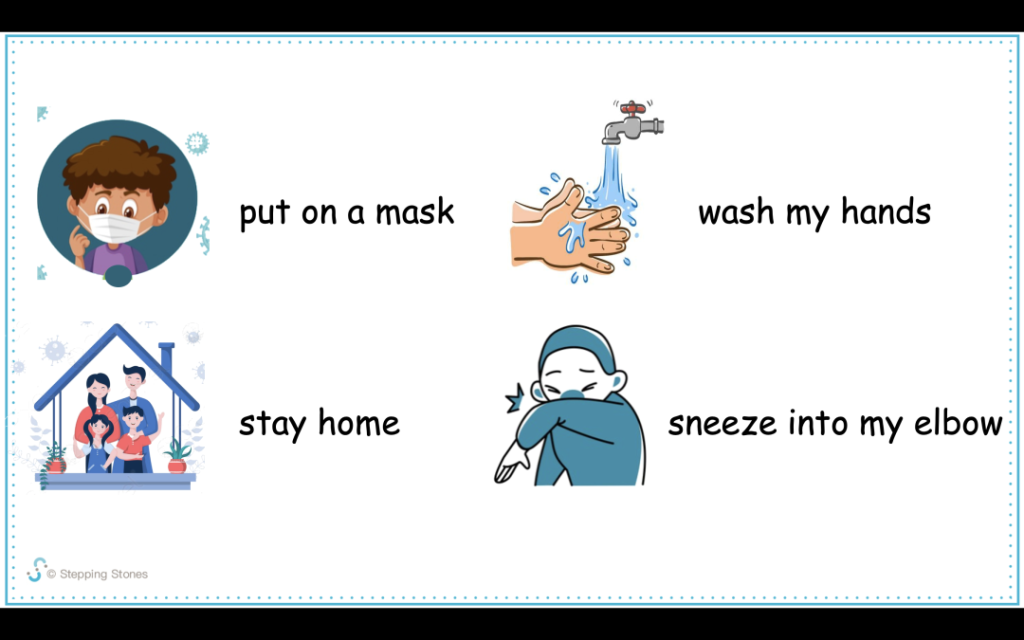 Program Highlights
Affected by the latest Covid lockdown in Shanghai, our Shanghai English classes had to be moved to ClassIn, an online teaching platform. In order to better support volunteers with a toolkit to teach online, our curriculum team developed a series of activity demonstrations for the volunteers to ensure an equally engaging and interactive class online. Meanwhile, our team members did three open classes online for volunteers to observe and get familiar with the basic functions on ClassIn. All the volunteers who observed the classes showed their enthusiasm and confidence to start the classes right away.
In March, two Covid-themed lessons were designed for our beneficiaries so that they are able to talk about this current issue in English.
Challenges and Plans
We foresee the uncertainty of the lockdown policy might affect our Shanghai teaching program in the near future. Our curriculum department needs to provide more online teaching support to the volunteers, for example, sharing more teaching tips and giving more class demonstrations.