On a typical cloudy summer day on July 20th, the air was fresh and moist in Binjiang Forest Park. 25 minutes before assembly time, people were already gathered at the park entrance…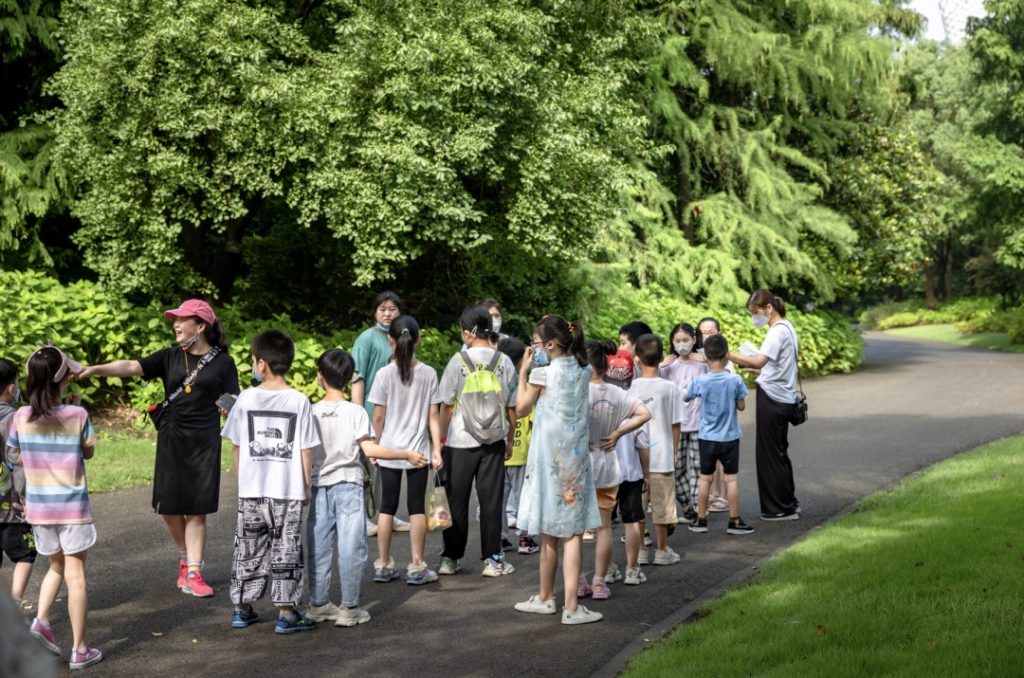 A group of children and parents led by Ms. Huang from Jiu Qian Volunteer Centre was waiting for the fun to begin!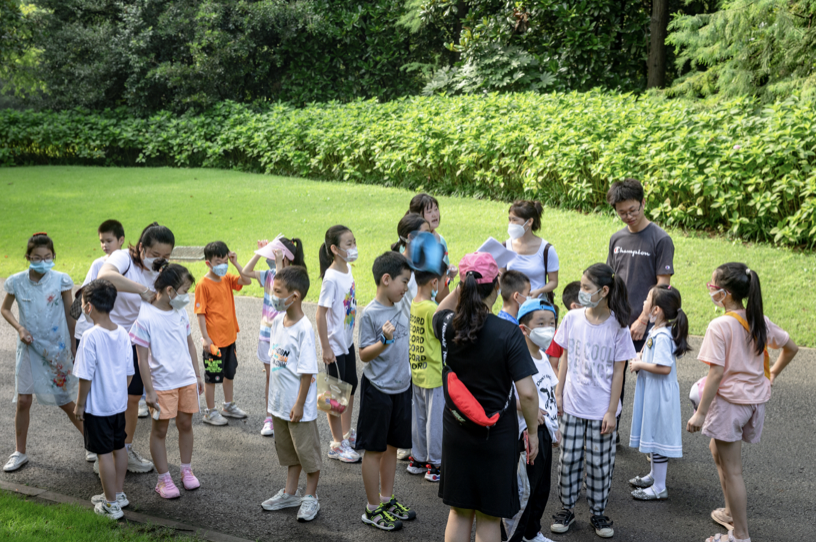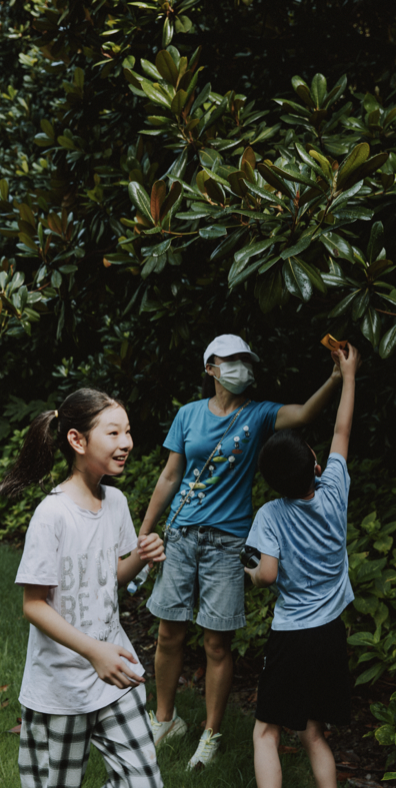 After experiencing school closure and a whole semester of online learning, it was very exciting to get offline, get in touch with nature, and play with the children in the blissful embrace of the grass and forest.
Children get pure joy from the simplest things. The huge shade cast by a tree created the perfect activity site.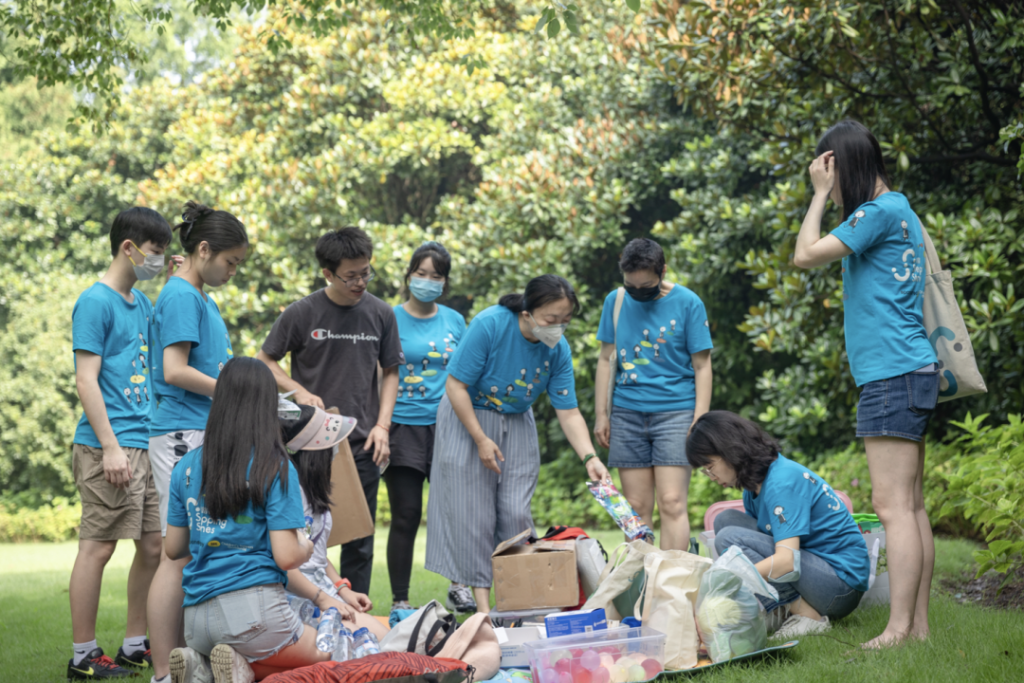 A spelling game got all the kids running around!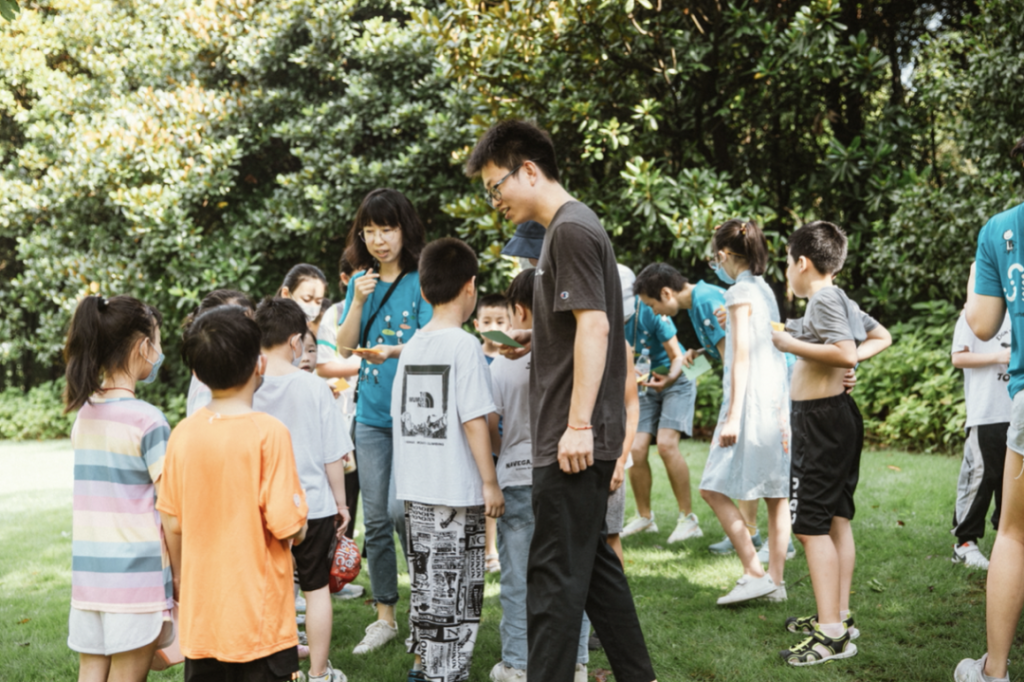 Despite the chaotic beginning, a circle dance quickly got the kids and volunteers holding hands and enjoying themselves!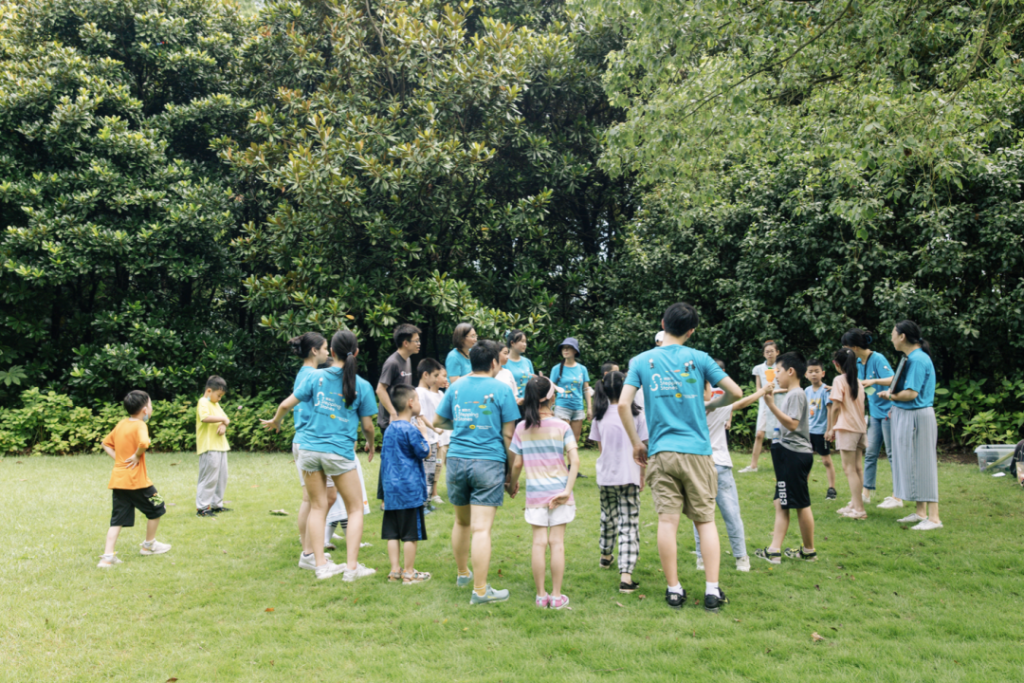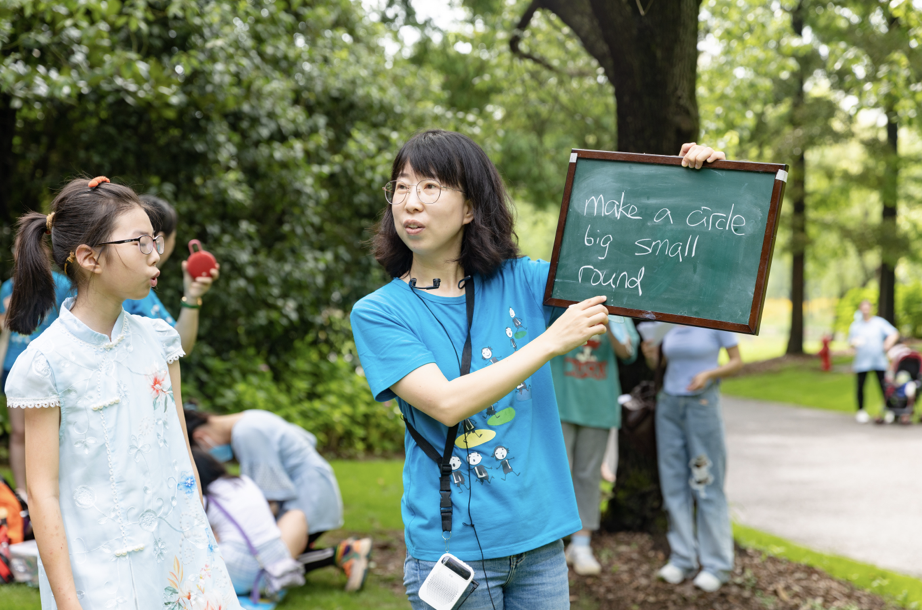 With the help from Teacher Claire's demonstration, of course.
During charades, the kids acted out their words through gestures and body movements with maximum energy…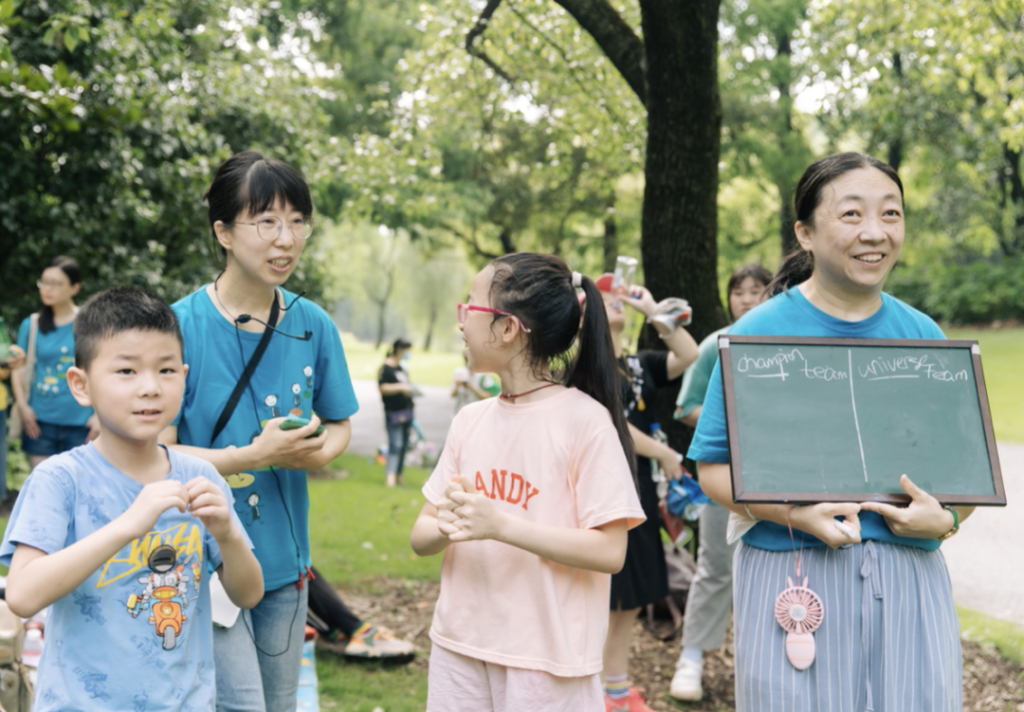 Their hysterical laughter echoed throughout the park.
Everyone was at their quietest in the hat-making activity. They were all naturally born artists, turning paint, glue, flowers, leaves, ribbons, and even Gacha capsule toys into the most fashionable elements to make boring straw hats into their own unique and personalised style items.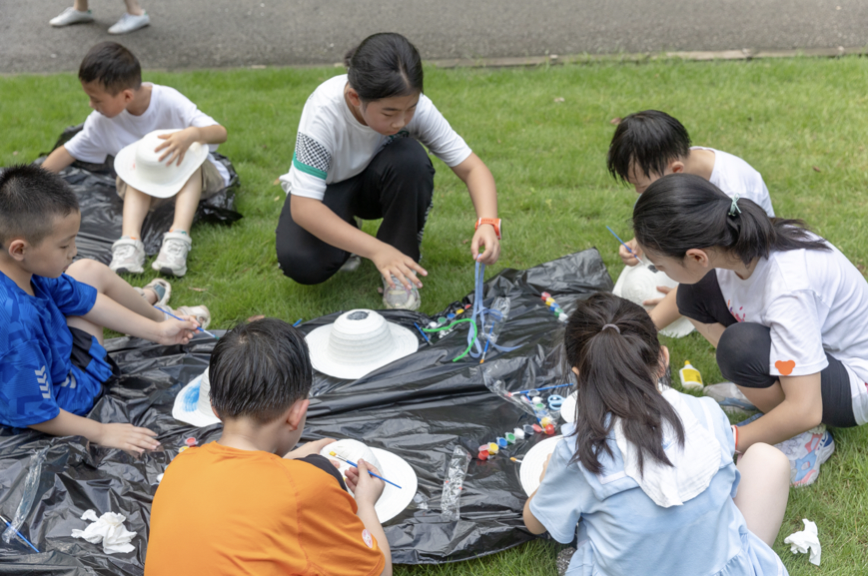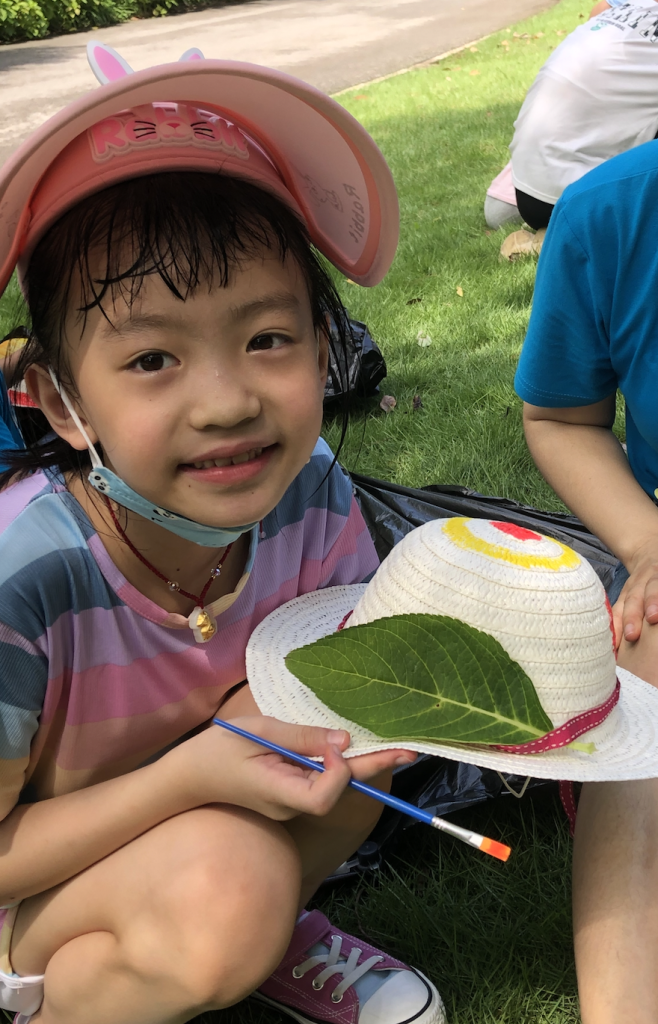 One of the little girls, Amy, decided to draw a flower and add a real leaf on her straw hat.
She just finished 1st grade and loves drawing, but has no art making materials at home, so she happily seized the opportunity on this day.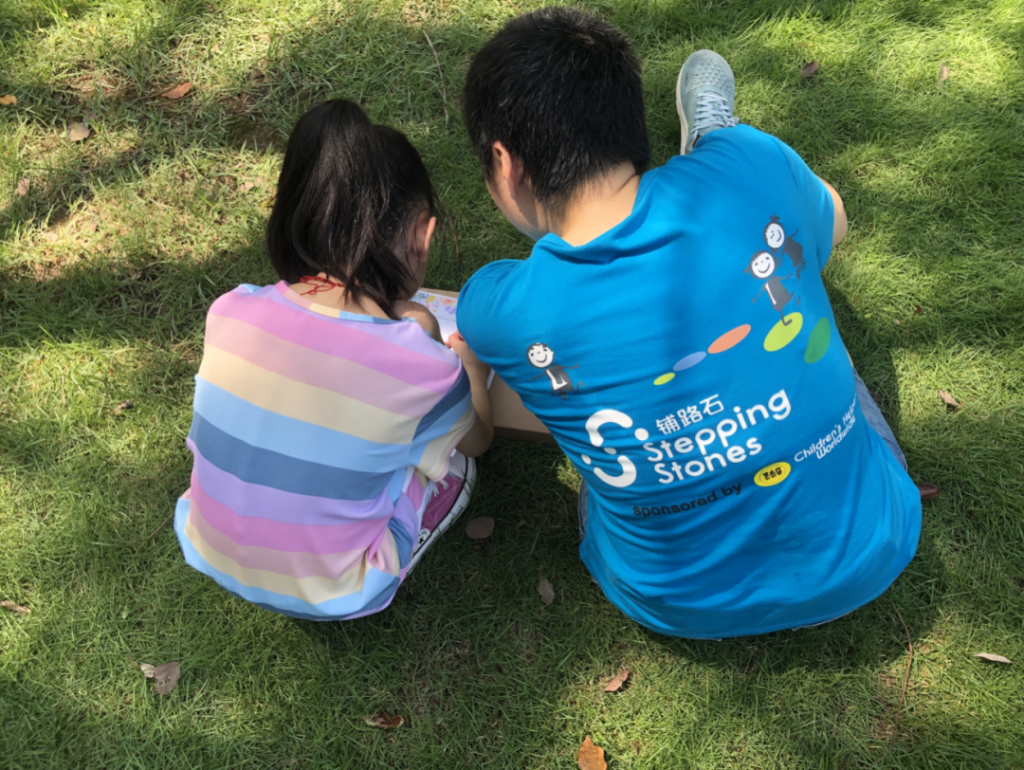 First, Amy drew the pistil in yellow, then carefully traced out the petals in red. A volunteer suggested her to add some stripes but she decided to draw a red circle with a tail instead.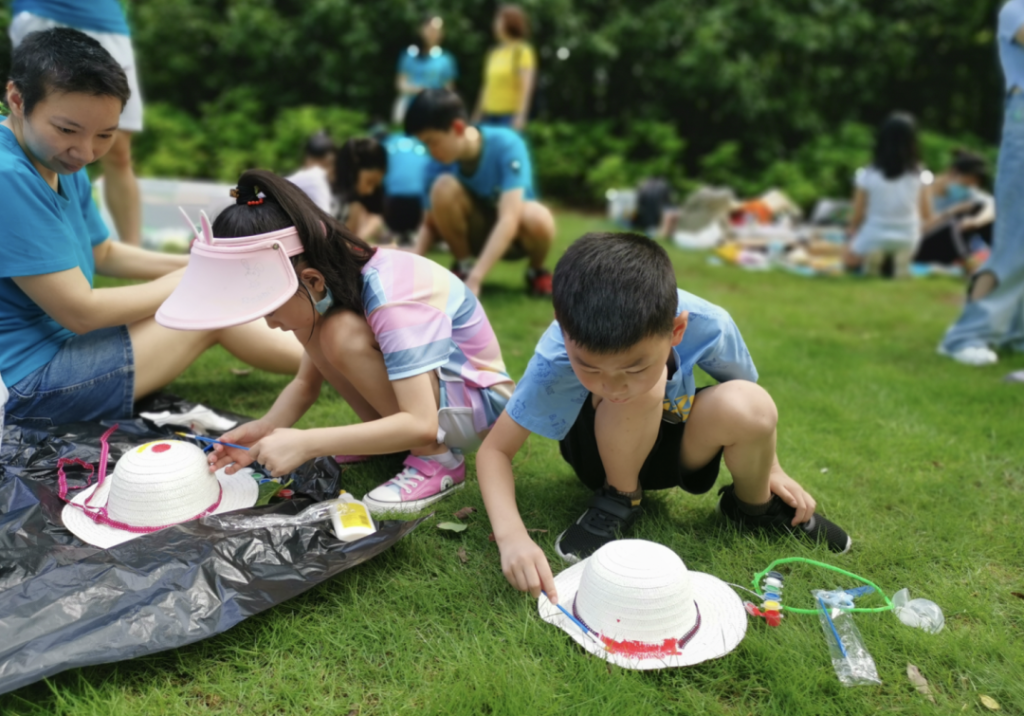 After much gentle and cautious work, she finished the hat at the last second and showed it to her father who was patiently waiting on the side the whole time. He tied the ribbon in a beautiful knot and discreetly glued the leaf a bit more before handing it back to her daughter, putting gleaming smiles on both faces.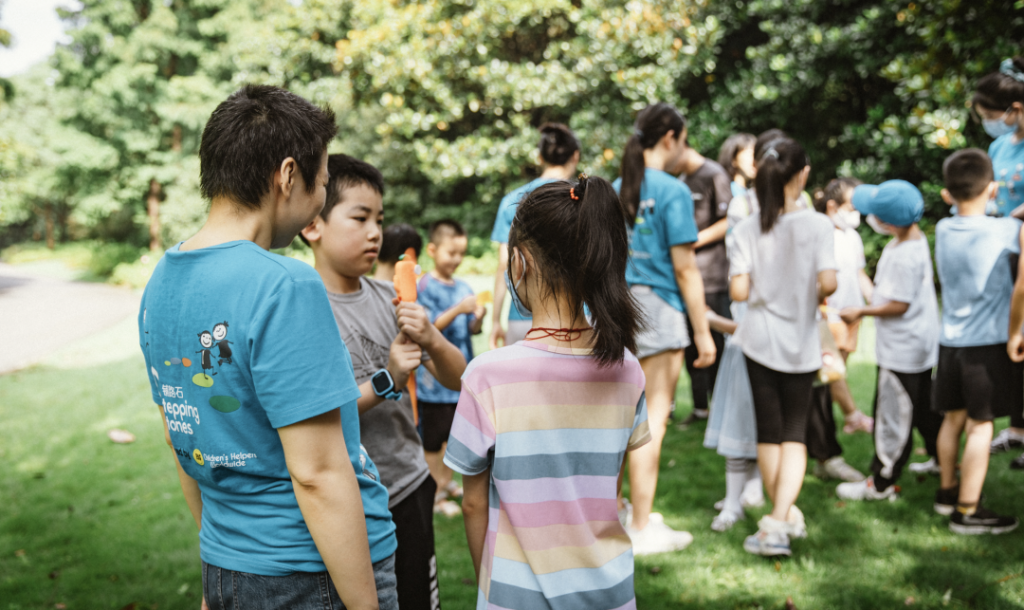 From the very beginning, Ming Qi, another little girl, seemed extra energetic. She talked about her love for art and nature but her dislike of running, especially in the heat, yet she was completely absorbed and in her element making her straw hat, even with sweat dripping down her face.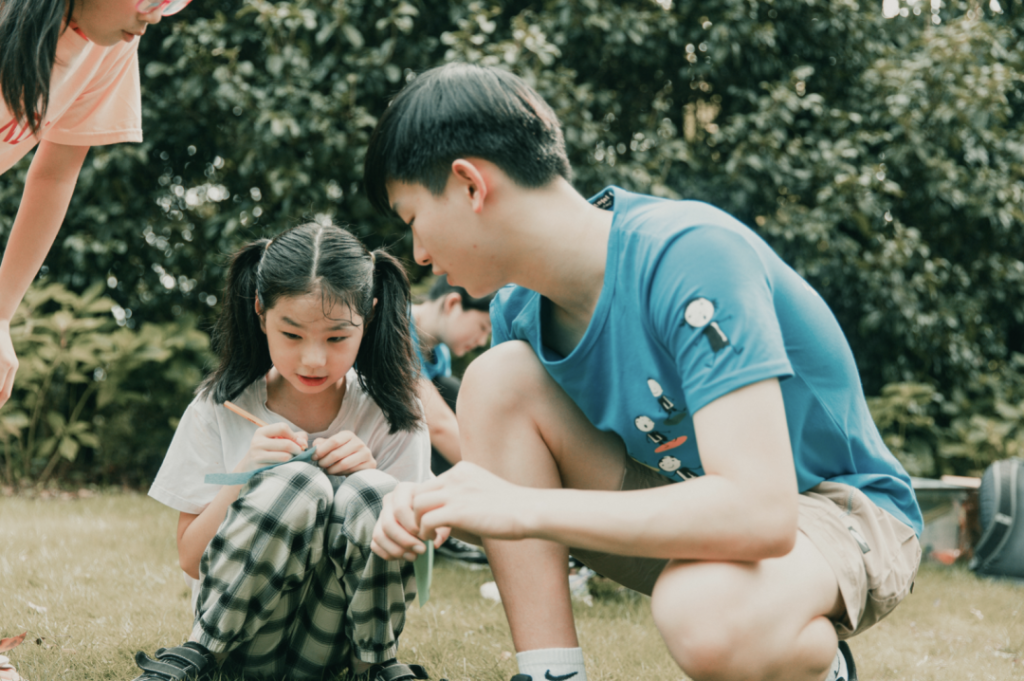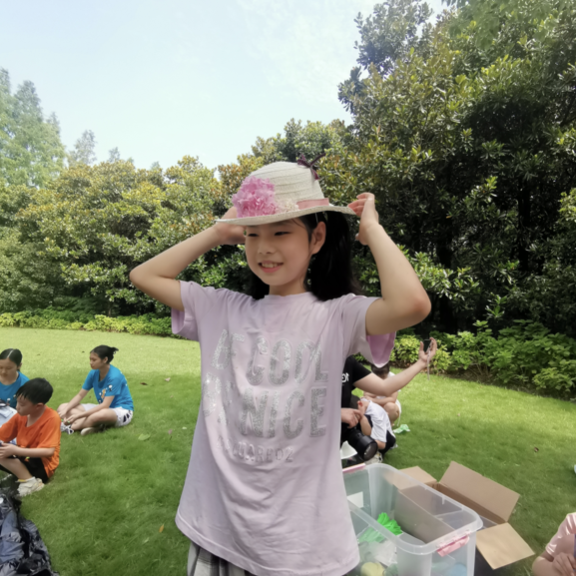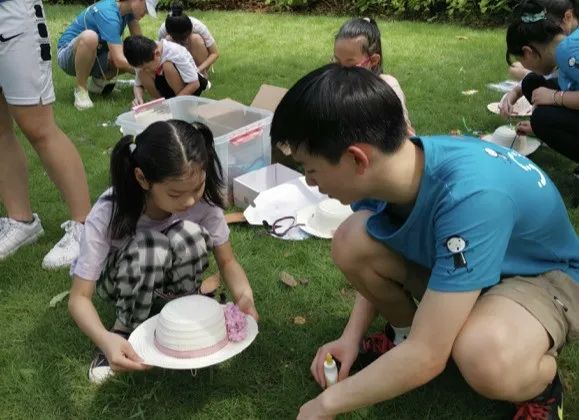 Sometimes when she couldn't understand a word, she would immediately hop over to one of the volunteers bursting with curiosity about how the word was spelled and used in a sentence. She wanted to be accompanied in all activities, most memorably to pick up the pink flower that had fallen on the soil to stick onto her hat. Without the flower she felt like the straw hat was incomplete, so most of her time was spent on gluing it. Realising that glue under the scorching sun wasn't going to work, she switched to double-sided tape which made her fall in love with her hat even more.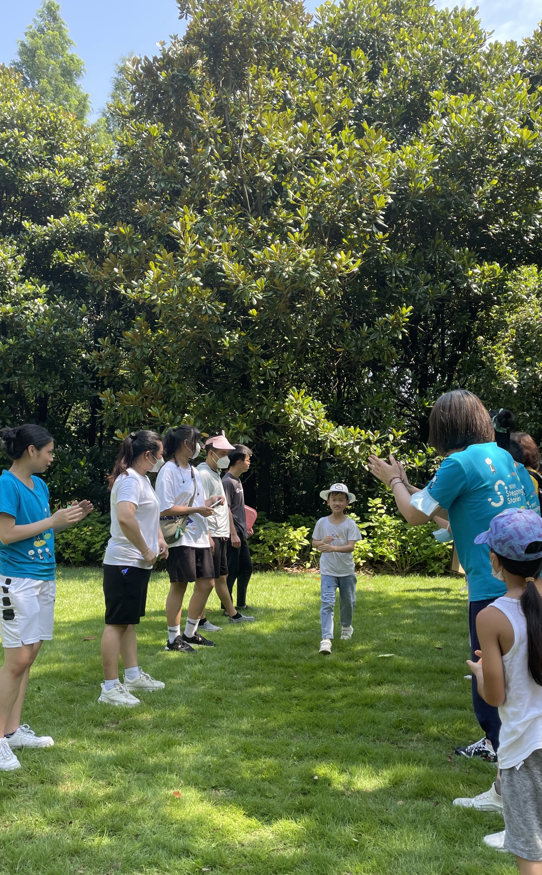 Wearing their self-designed hats and the crowd wowing them beside, the catwalk was every child's highlight of the day.
Making funny faces, jumping around, or tensing up from nervousness all didn't matter because all the applause and cheering was so fervent and genuine.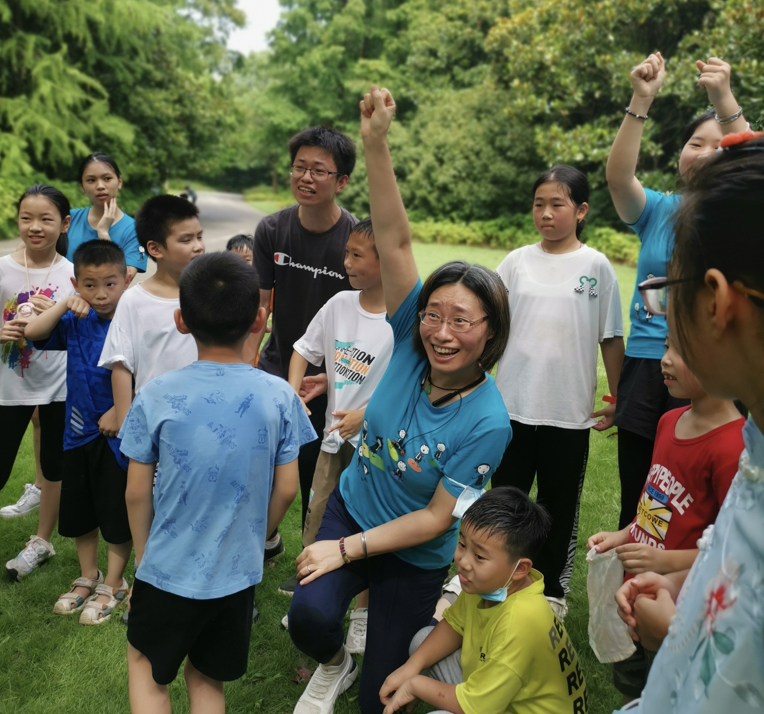 Of course, perhaps the happiest part was throwing hats. With a "One… two… three…!" the kids tossed their hats high up in the air, spreading their joy across the meadows, surrounded by cicadas' chorus, hot wind, and the summer dew!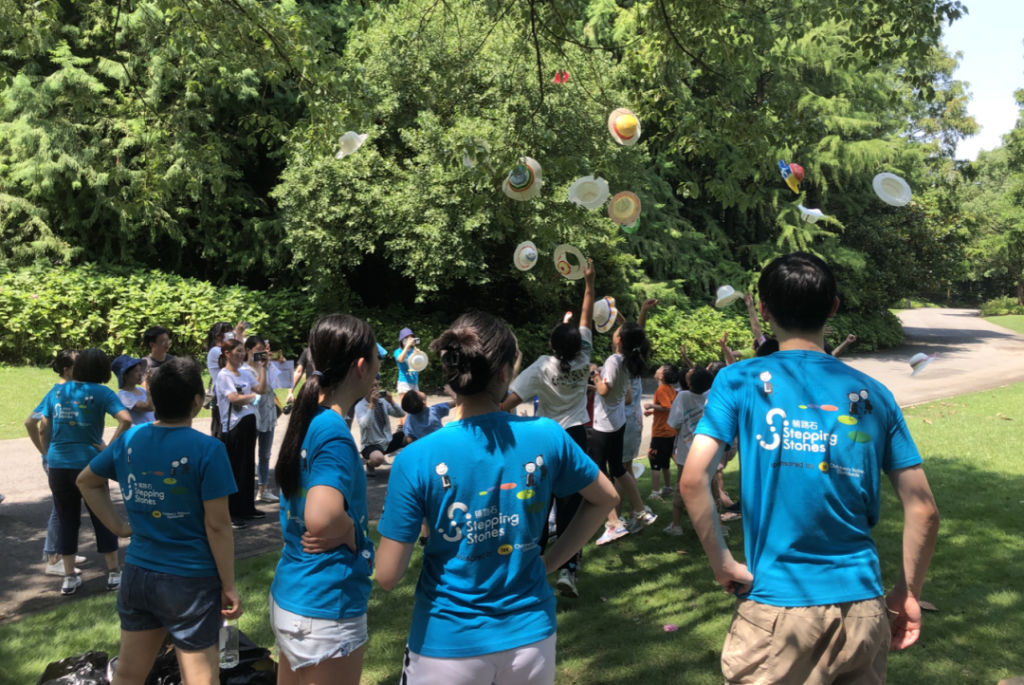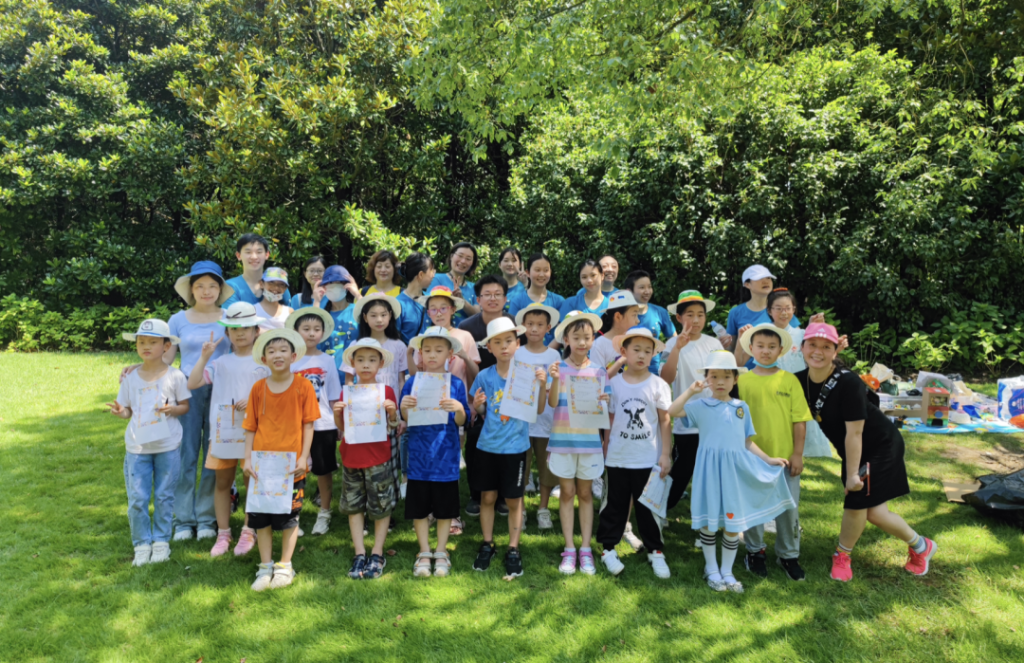 Now, let's hear what others thought about the event!

The Stepping Stones Interns want to say…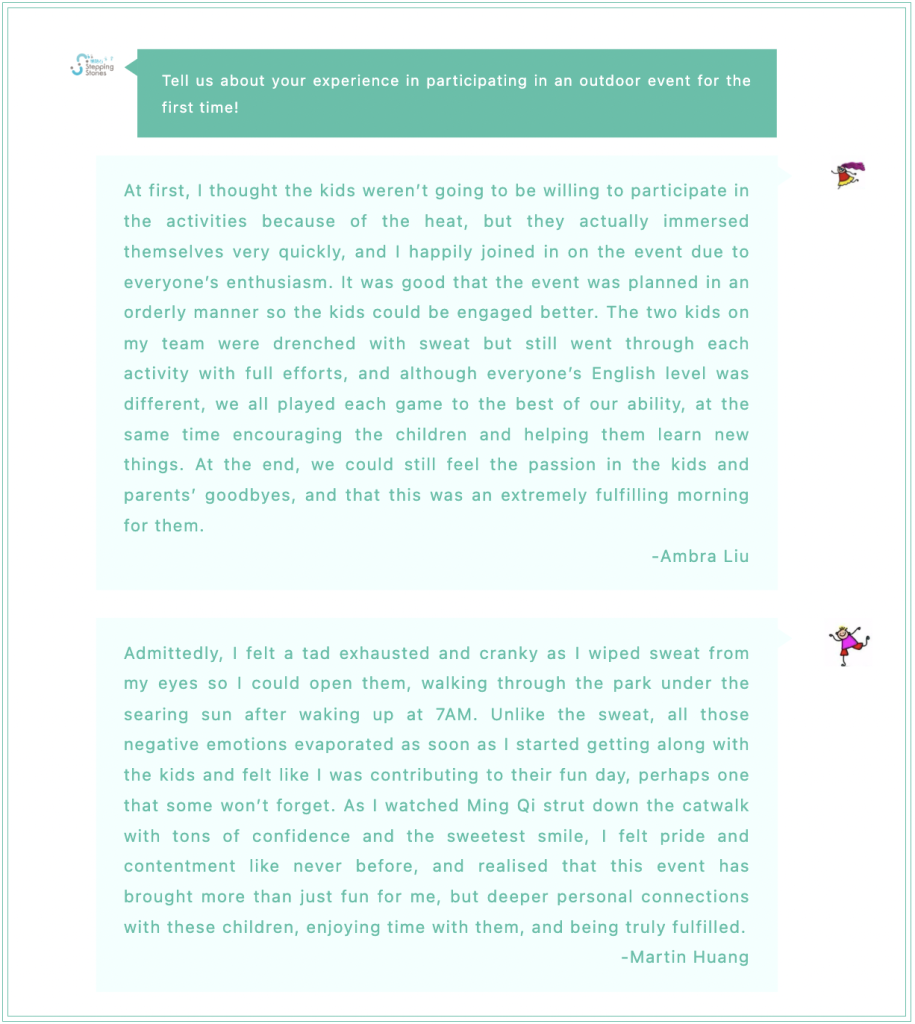 The Jiu Qian Volunteer Centre wants to say…
Now let's hear from the parents!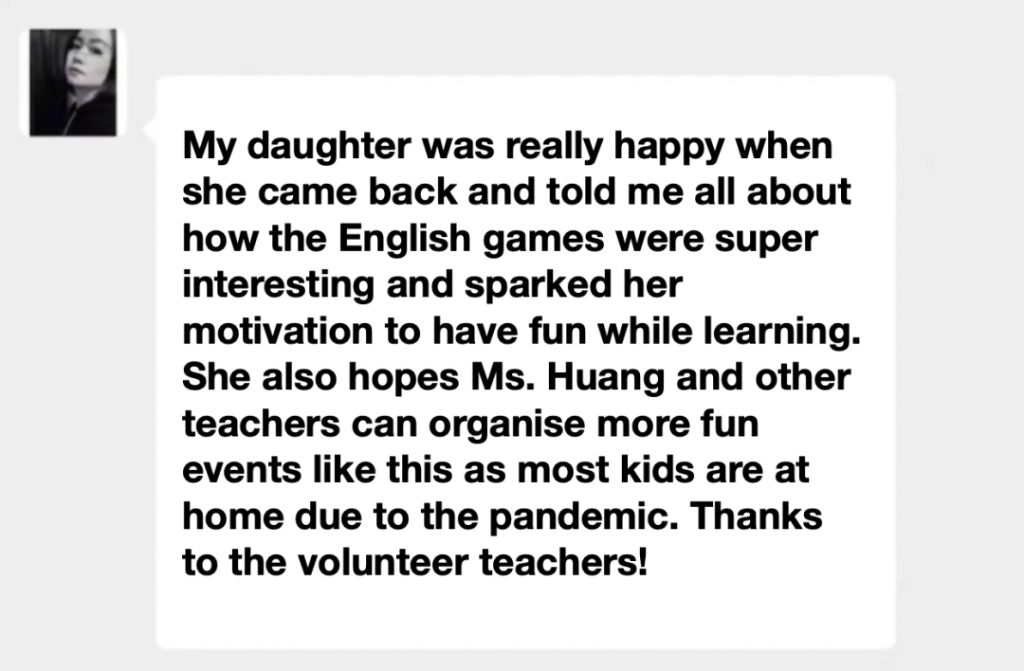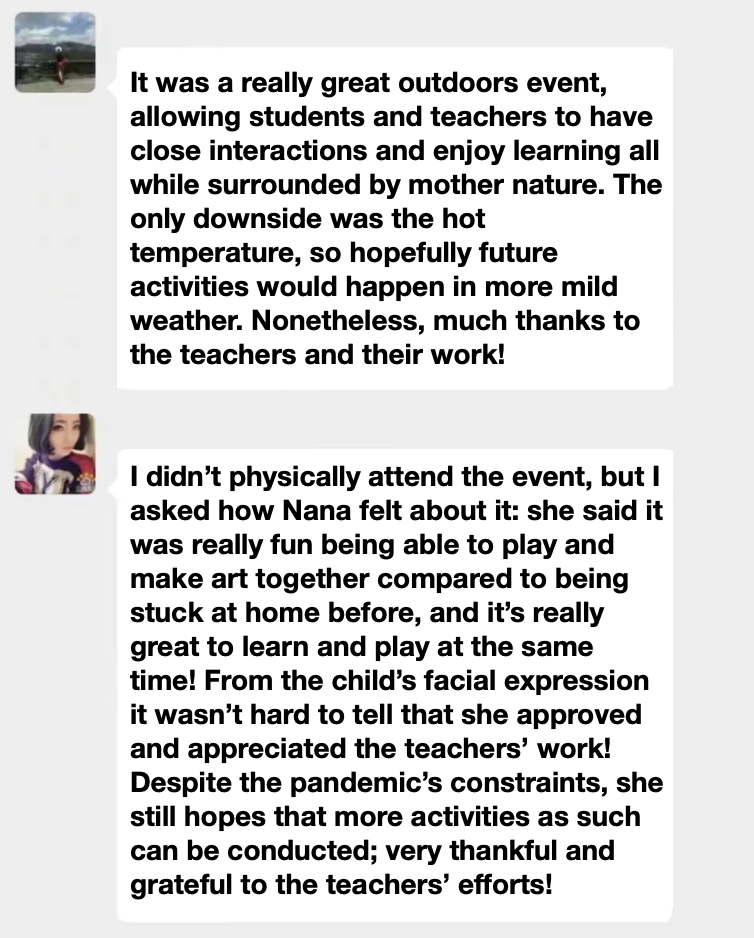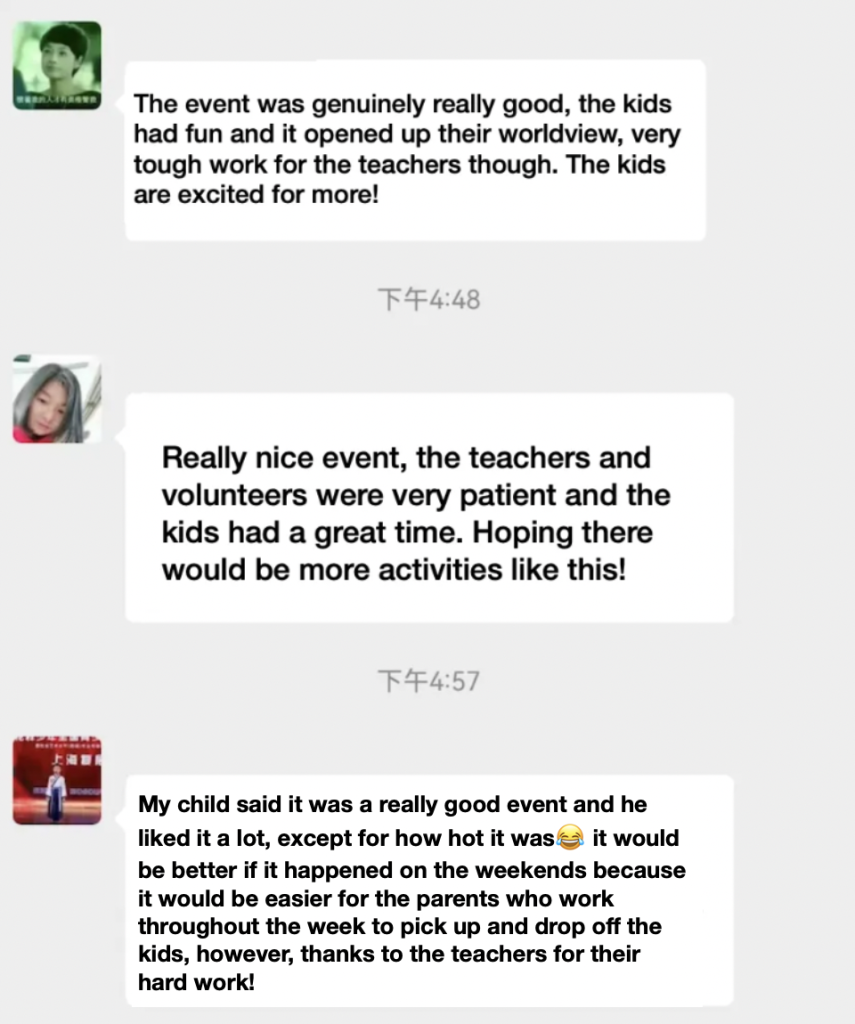 Stepping Stones has always been committed to edutainment, with an emphasis on creating fun, natural teaching environments in games and activities that help children learn languages more effectively. Since the end of the epidemic this spring, Stepping Stones' teaching team has been thinking about how to let children continue to focus and learn happily under the normalisation of epidemic prevention protocol. This outdoor English event was our first attempt and was a success, thanks to our experienced teaching team, reliable institutional partners, and interns and volunteers that all travelled a long way to get there early that morning.
Big Thanks To:
Our partner organisation Jiu Qian Volunteer Centre, our volunteer photographer Xiao Yao, our interns Ambra, Judy, Rebecca and Martin, and the Stepping Stones team!