Between January and August 2018, We have sent 17 volunteers to teach in rural schools, villages and community centers. The beneficiaries have all been rural, migrant and 'left-behind' children spread out in seven different provinces. Both the beneficiaries and the teachers benefited from Stepping Stones sending volunteers to teach English at their schools.
Below are some key facts: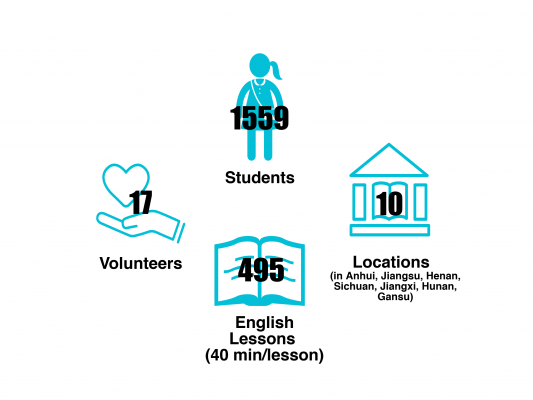 Through 495 lessons, the 17 volunteers taught grades spanning from Grade 3 to Grade 9 and even university students (EGRC project, click here for our previous post). These volunteers were from a diverse set of countries, including France, Australia, Germany, America and China. Volunteers not only taught English lessons, but held other activities such as crafts, games, and reading. Some of the volunteers were previous Stepping Stones interns that came specifically back to China to participate in this summer project. Below the map highlights the provinces involved where the lessons took place.
Are you curious about what the volunteers said about their experiences? Please have a look below:
"I really found value in sitting with teachers and talking about strategies to use in the classroom, both for English teaching and general classroom management. I felt like this aspect makes my time there feel more impactful, and teachers told me they will use some of what we talked about or what they saw modeled in my lessons to improve their teaching in the future. This is really rewarding!"    – Carly 
"The students are really willing to learn, they are very active. After we say that we are students from Shanghai, they respect us and listen to us."  – 
Jerry Ding 
"The students here are curious about everything, it will be very interesting if you can combine your life experience and the knowledge they need together. … I shared some of my college and high school experiences in Guangzhou and Shanghai with them, and some of the students felt inspired and came to me for more information. From this, I think the reason why I'm there is not only to teach them to speak more but more importantly to let them know how big and amazing the world can be, and why should they work harder to reach the world."  – 
Stella Cai
"Volunteering with EGRC and Stepping Stones allowed me to see firsthand the transformational and life-changing value of education. I had a fantastic time and experience and would highly recommend it to anyone considering it! " – 
Emmelyn Wu
"Stepping Stones allows volunteers to enjoy an enriching experience with children from rural China and to explore the difference between Chinese cities. I learned to prepare a course, explain and teach it to the students." – 
Sebastien
"The highlight was on the last day when a student asked us if we could come next year. That was when I felt I succeeded as a teacher." — "For me, I learned how to deal with kids. Before I always thought they are annoying, but now I find them cute and smart. For the kids, I think it's good for them to have a relaxing learning environment and a friendly teacher, because they are too stressed out at school." – 
Nevile Wang 
If you are interested in volunteering with us in rural areas, please click here for more information and here to register.