The autumn has arrived and our volunteers have had the on-board trainings to start their lessons! In total six trainings have been rolled out to prepare our beloved volunteers for the classroom.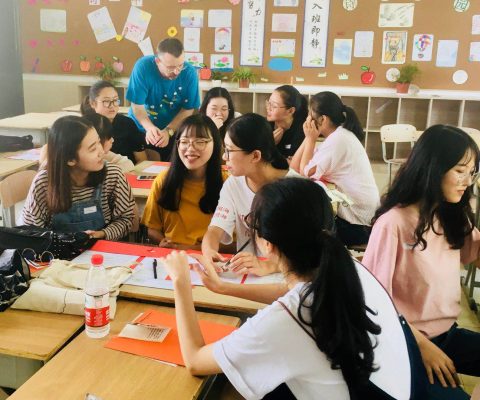 We are happy to announce that Stepping Stones has established a partnership with Shixingzhe based in Jiaxing. As we want to provide services to more children outside of Shanghai and partner more with other NGOs outside of Shanghai to increase our impact, Shixingzhe is an ideal partner aligning our mutual interest, motivation and mission to provide disadvantaged children with education. Thus, when the new term has started, we were happy to assist Shixingzhe to train their English volunteers to teach English to their lovely students at a local school for migrant children.
"About Shixingzhe: 
Jiaxing Shixingzhe Social Work Office coordinates between professional social workers to provide services for young people, and provides supportive services for them in the areas of employment, life issues, and emotional queries."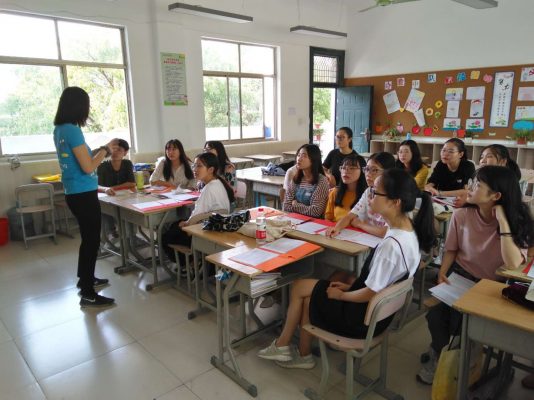 Our training director Ross and program manager Sally started the training session with four areas for the volunteers to pay attention to:
1. commitment – what does it take to be a qualified teacher?
2.demo classes – a demo class of teaching Indonesian to show how it is for a beginner to learn a new foreign language.
3.teaching techniques – demonstration, modeling, drilling, eliciting, monitoring, refocusing and praising.
4. teaching practice – volunteers have a chance to do a demo class and apply what has been taught.
A similar training has also been carried out for our English teaching volunteers in Shanghai by Sally and our new volunteer trainer Claire. Now we cannot wait to see how these trainings help our volunteers in the new semester! Stay tuned!