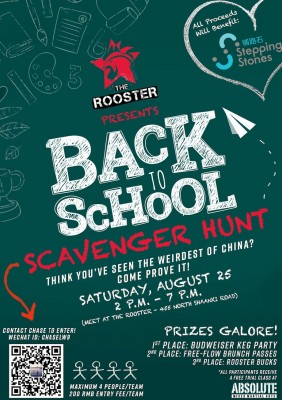 Thanks to The Rooster for hosting a Back to School Scavenger Hunt for our programs. All the proceeds of the event will benefit Stepping Stones.
Here is the official description from The Rooster:
"On August 25, from 2 p.m. to 7 p.m., your teams will be running across Shanghai, trying to tick items off of your scavenger hunt list. Meet at The Rooster at 2 p.m., and we will have a hard start at 3 p.m.! Rest assured, by the time you get through the list, you'll have experienced all the good and straight up weird things that we have come to love about Shanghai. Street dancing aunties, anyone?"
Are you excited? Save the date!!