At the end of October, as Stepping Stones' communications manager, I took a trip to Luyi County in Henan Province to pay a return visit to our rural volunteer.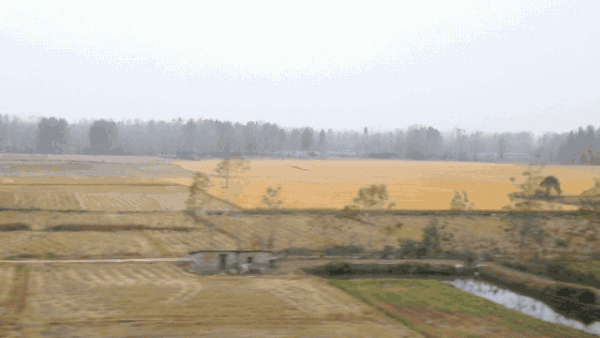 Luyi is the hometown of the founder of Taoism Lao Tzu. It has an important place in Chinese cultural history. However, as the time went by, it lost its glory. As with most developing areas, transportation was very inconvenient. First I took the high-speed train north from Shanghai. It took me about 5 hours to arrive in Shangqiu, Henan Province, and then I took a 2 hours long-distance bus to arrive in Luyi county. Finally, I reached the final destination in the town after one hour's drive. Since it was almost 7 o'clock in the evening when we arrived, we didn't visit to the school directly.
About them
The next day, our teaching volunteer Kathie and I took a cab to the school together. Kathie arrived here few days earlier than me, and had already started to teach English. The school is located on the edge of the village, between the farmland and the villagers' residential area. For local farmers, it was much more convenient to send their children to study here rather than to the school in town. Later, we learned from school principal Ms. Liu that in addition to day students, the school also has some boarders. Some of these students come from remote villages, and others board because of complicated family relationships. For example, their parents are divorced and neither parent can take care of them, so they have to go to boarding school.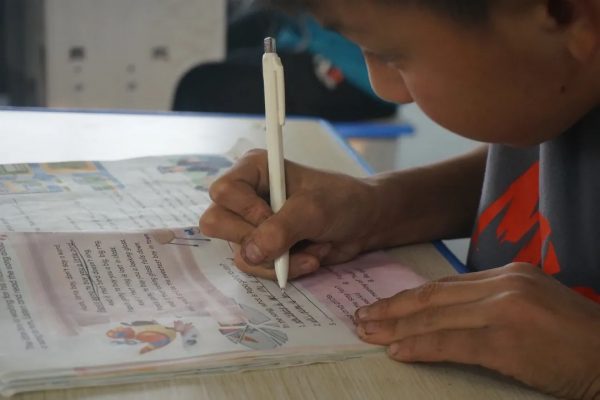 Principal Liu said that many local young people choose to work in distant cities, and they have to leave their children to be raised by the elderly. In addition, many young people here drop out of school at junior high school level. They are not yet mature, and make hasty decisions to get married. After that, because of problems such as working in far away locations and managing long distance relationships, the local divorce rate was quite high. In each class, there are 3 to 4 students from divorced families, and some of them are not accepted by either family. These children have to live in school all year round. Principal Liu said that for these children, the school is like a shelter. It is not only a place for them to learn knowledge, but also their home.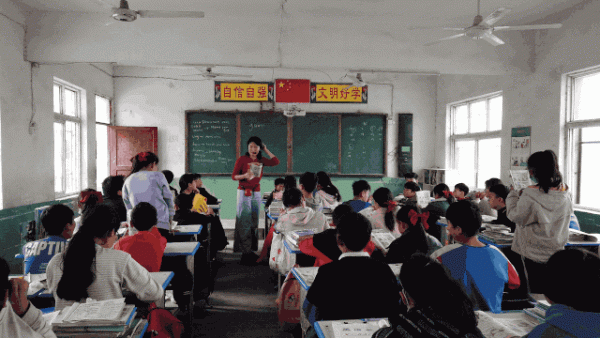 About our English class
Kathie came here to teach English. Every day the school would arrange 3 or 4 English classes for her. Actually, Kathie already has experience of teaching with Stepping Stones, having taught English in Jiaxing, Zhejiang Province for a week this summer. I asked her how she compared these two teaching tasks. She said these two were quite different. She said: "I taught English in the community centre in Jiaxing, and it was more about how to develop children's interest in English. But in Luyi, I was teaching them the English in their textbooks. There were many more students than in Jiaxing. I would meet students from different grades each day. Besides, the educational environment and facilities here were even harder.
I sat in on four of Kathie's English classes that day. Kathie leads each English class, with the English teacher watching or assisting Kathie in the interactive tasks. I have to say that Kathie's teaching skills were really excellent. She communicated with the students in English throughout the class and got the children to participate, as advocated by Stepping Stones. I was impressed that the students were active and willing to join in the activities. What surprised me most was the students' interest and passion in learning English, which I had imagined may be a little restrained because of shyness with a new teacher. Instead, students here were eager to be chosen by Kathie to answer the questions and participate in educational games. Principle Liu explained, "There are very few outsiders coming here and we are quite closed off from the outside world. But Stepping Stones volunteers regularly teach English to our children. They give students a great chance that children really cherish to know and understand the outside world." During the break, I also interviewed Miss Zhang, an English teacher at the school. She was very excited to realise that in a fully English speaking environment, students could still understand the teacher. That was a very pleasant surprise, and inspiring to her, as it allows students to practise spoken English more often. In fact, after communicating with our volunteers, she tried to change her approach step by step. Her lessons no longer consist of lectures and test papers, but also include some games for students. Besides, I found in almost every class, one or two students at the back of the class showed confused emotions towards English. Miss. Zhang explained that these children mostly were transfer students. Many primary schools here don't teach English at all, so they were already behind when they transferred here.
In order to provide high quality long term English lessons to students, as well as arranging for volunteers to teach in person every year, Stepping Stones also set up videolink classes in the school, in order to continue to teach the students on a weekly basis.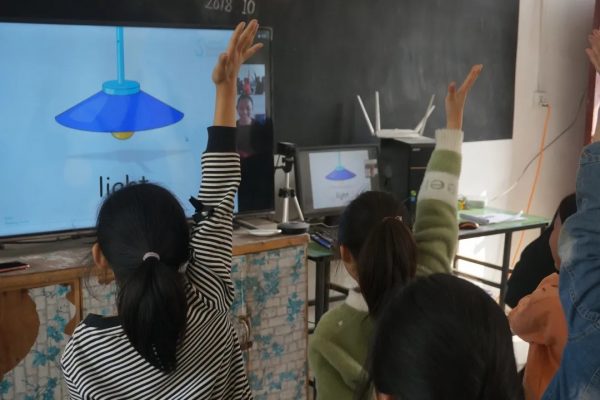 Principle Liu proudly said school's English test score ranked first in the town, and was nearly 20 points ahead of the second-ranked school. She said this was all due to our volunteers' help.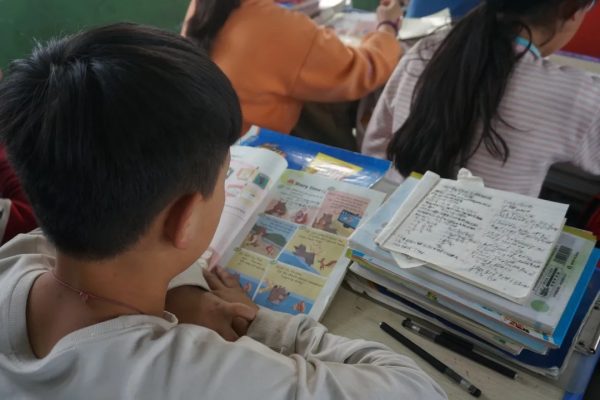 Stepping Stones has been teaching in this school since 2014, and has carried out rural English teaching projects, teacher training and remote English teaching. After years of hard work, we can see the change in students' and teachers' attitudes towards learning English. Nowadays, they speak English more confidently. We will continue to try even harder to help these kids.