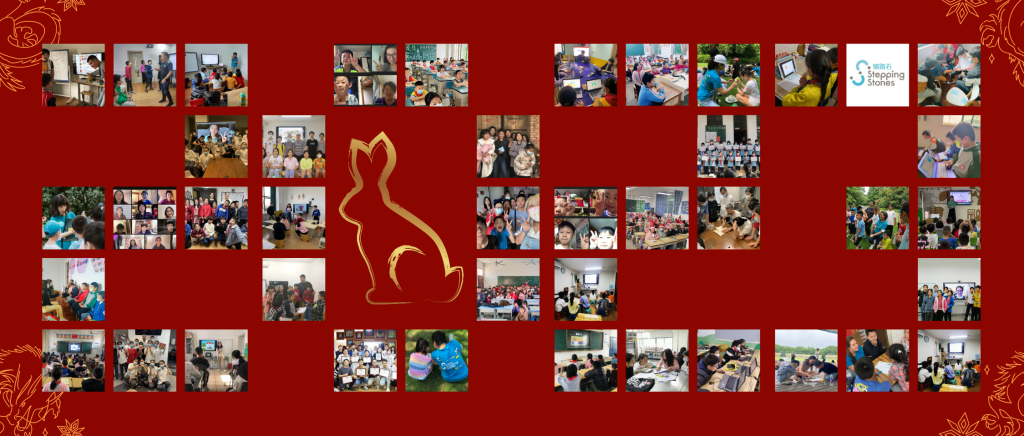 Our community has been through so much in 2022. Throughout the year, we have continued to feel the ripple effects of the COVID-19 pandemic with regular lockdowns, school closures, and event cancellations. In spite of these challenges, we have achieved amazing things for disadvantaged students in China. You can read all about it in the report below.
In these exceptionally difficult times, we especially want to thank all of you, our volunteers, donors, and other supporters. We need your support more than ever to keep our programs running sustainably in 2023. If you would like to help, please click here to donate. All contributions of any size are always very gratefully received!
As the Spring Festival approaches and we are heading along the road back to 'normal' life, we sincerely thank all of you, and wish everyone good health, good luck, and much happiness! We look forward to working with you in the Year of the Rabbit!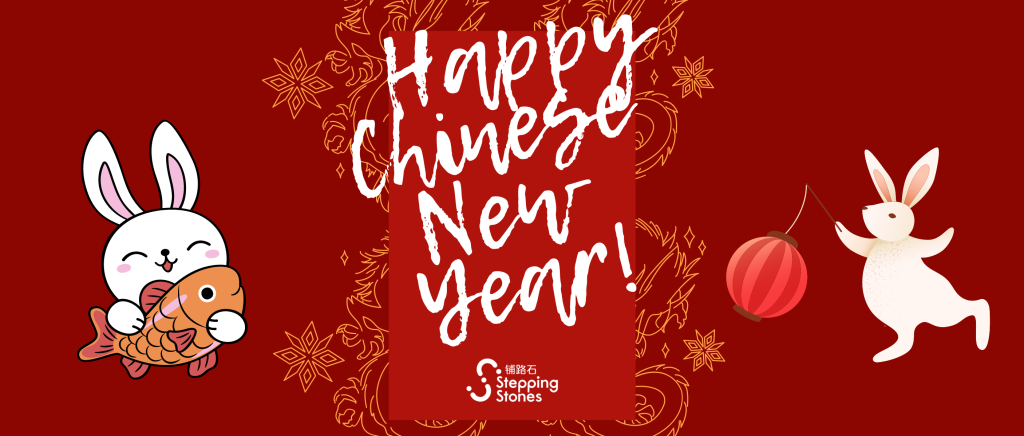 In 2022, more than 750 Stepping Stones' volunteers and teachers delivered 8,128 English, digital literacy, and life skills lessons to 5,289 disadvantaged students in China, most of them through the internet. We also supplied English training to 16 English teachers working in a rural school in China. Compared with 2021, we are pleased to report that we have significantly increased our number of lessons provided, enabling our beneficiaries to acquire knowledge and make more progress in English and digital skills. Thanks to the commitment and resilience of our volunteers and sponsors, our students received on average 16 lessons each over the course of the year.

As was the case in 2020 and 2021, our online interventions continued to be our main focus in 2022. We scaled up our School Videolink Program from 20 to 26 rural schools, located in Fujian, Henan, Hebei, Yunnan, Jiangxi, Guangxi, and Guizhou provinces. At the same time, our Home Classroom Program – which consists of volunteers teaching online to 5-8 students located in their own homes – continued to reach thousands of students across China. In total, more than 3,275 students joined one of our online English programs in 2022, and our volunteers delivered an impressive total of 4,347 online lessons.

We have also continued to update and improve our lessons and teaching materials to ensure they stay practical and relevant to our students' educational needs. For example, to help students enhance their speaking, reading, and listening skills, new phonics classes were added to our curriculum. In our continuous effort to innovate, we have also equipped some rural schools in Yunnan with talking pens and workbooks to help our students review their lessons and strengthen their language-knowledge retention.

While our Shanghai programs were greatly impacted by the pandemic during the spring semester – forcing us to transfer all our programs to online mode – we were able to run our programs relatively smoothly in the fall semester, even opening a new site and innovating along the way. We launched a new program for kindergarten children, delivered a "teaching English through drama" workshop, and organized outdoor teaching activities for children.

Our volunteers delivered 2,482 English lessons to 1,262 disadvantaged children at 20 project sites in Shanghai. We were also pleased to continue our collaborations with Shanghai Qingcongquan Training Centre for children with special needs and with Shanghai Young Bakers and Shanghai K Foundation to provide vocational oral English courses to adults and youth.
Thanks to the support of an increased number of local and international partners, such as Transparent Fish Fund, UPS, PwC, and the Government of Ireland, our digital and life skills programs experienced a significant increase in 2022, benefitting 729 students throughout the year. Our volunteers and trainers delivered an impressive total of 1,145 online and offline lessons to our students throughout the year. 

Along with providing digital literacy and life skills classes to children across China, we have continued to update and improve our lessons and teaching materials. New lessons in social-emotional learning, coding, graphical programming, and embedded system design (Micro:bit) were added to our curriculum to enhance our students' knowledge and learning experience. For example, our new classes allow students not only to learn hands-on programming, but also to understand how the sensors are programmed to detect and control light, acceleration, temperature, and humidity.

As was the case in 2020 and 2021, our plans to send volunteers to teach in rural areas have been severely impacted by the pandemic, with many rural tours, programs or projects cancelled. Despite the travel restrictions, we were able to send 13 individual volunteers to three rural teaching sites in Henan and Fujian and they taught 138 English classes to 330 students who welcomed our creative teaching methods.