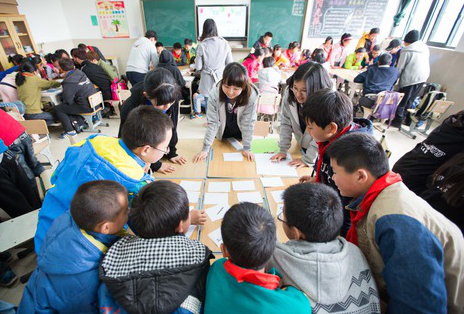 On the 9th of April, a group of 90 high school students from Shanghai Livingston American School visited a Stepping Stones' partner migrant school. The high school students were accompanied by ten teachers and five Stepping Stones members. One goal of the project was to emphasize the importance of volunteering and for the students to gain a valuable experience by teaching English to the migrant children. Stepping Stones planned a whole day of enriching activities, including teaching at a migrant primary school in Shanghai.
The full day project started with Stepping Stones' Senior Programme Manager, Sebastien Carrier, giving a presentation about the migrant situation in China and the work Stepping Stones is doing to promote the general welfare and education of these migrant children through its various programs. The lecture left the Livingston students eager to start their teaching experience.
As the young students had never taught before, an experienced English teacher and Stepping Stones volunteer, Amelia, trained and prepared them for the day of teaching. She explained some simple teaching tactics and tips, how to interact with the children, how to use different materials in the class and provided them with some exciting game ideas.
Armed with teaching supplies and enthusiasm, the Shanghai Livingston School team was ready to head to the migrant school. After arriving at the school, they met with children from twelve different classes and split into small groups, consisting of two high school students partnered with nine migrant kids. The young teachers understood their role and the classroom and acted with great responsibility. Together with the migrant children they played many English games, like memory games, Pictionary and hot potato.
When the classes were over, the primary school students asked for signatures and short English notes from their new friends. The Livingston students thoroughly enjoyed the day's activities and were already asking their teachers for an opportunity to have another day like this! The students from both schools cherished the day spent together, learning about each other's culture and life. Stepping Stones is willing to organize more programs like this, just visit the Student Groups volunteering page here to learn more.