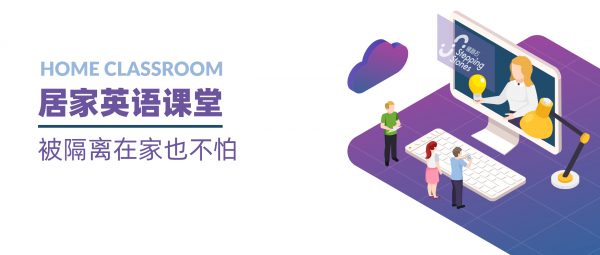 After two weeks of intensive work, Stepping Stones has launched its Home Classroom English Lesson for children affected by the outbreak of COVID-19! On Tuesday this week, the first batch of volunteers from around the world were trained up to deliver their first English classes to children from our partners schools, and lessons started the following day.
At the height of the fight against the epidemic, the Stepping Stones team started to think about what role we could play in the response. We realized that many children would not be able to go back to school on time. Some of them face a quarantine of at least 14 days once they are able to return to where their schools are. How to minimise the disruption to these children's education? We wanted to use our expertise to help.
On 19th Feb, our Home Classroom for quarantined children formally started after a successful pilot lesson the previous week. Children can log into the online platform Zoom via a smartphone or computer to attend the English lessons taught by volunteer teachers with the support of parents.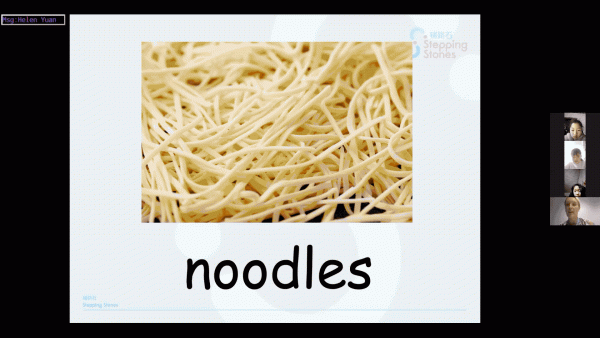 To ensure the good quality of the teaching, we maintain a small class size, with one volunteer to four students.
It is the first time for these children to attend this kind of lesson, though it is not new to us, since we have been using similar method to train English teachers for a few years.
Obviously, children were quite excited to see their volunteer teacher and their classmates from across China including Shanghai, Hunan, Jiangsu, or even Jilin provinces on the same screen. They paid great attention during the whole lesson, and the responses of the teacher and other pupils could be seen immediately. It was also very effective for the teachers, as they could assess each student's individual situation and take care of them appropriately, to make sure all the students could follow the lesson. (We have to say that our volunteers are truly the kindest and most patient of teachers!)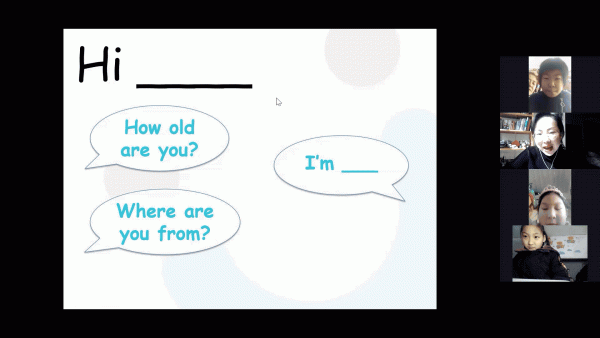 This week, 14 volunteers from around the world will deliver 21English classes to 82 migrant children from Wednesday to Sunday. Each volunteer will teach at least two classes per week, 30 minutes for each class.
The director of Stepping Stones Corinne Hua said, 'These children have already been cooped up at home for a whole month, so we are all very glad not only to be able to provide them with a fun way to improve their English, which can truly focus on the children's individual needs, but also to give them some support and encouragement from the outside world. The format of one volunteer to only four students provides a unique level of personal contact that cannot be achieved by most online educational programs.'
Like our other English lessons, the new Home Classroom program aims at enhancing children's interest and confidence in speaking English.
We have tailored the PPTs from our Videolink program to make them suitable for teaching grades 2-5 in the Home Classroom context. Volunteers are recording videos of the lessons for students to preview before class, and preparing worksheets for the students to complete after class.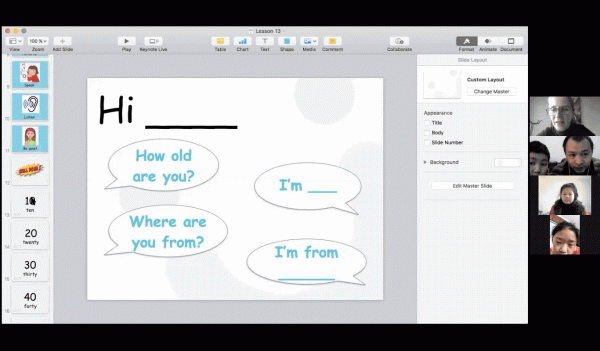 Volunteers receive online training from Stepping Stones covering our lesson plans, online platform, teaching context and teaching techniques before they start teaching.
We will open more Home Classroom groups from next week based on this week's experience. Over the coming two weeks, we plan to scale-up the team of volunteers to 60, so that we can teach 120 lessons per week to 480 students. In order to be able to scale-up sustainably, we are also recruiting volunteer coordinators to assist us to set up new student groups, provide technical briefings to the students and their parents and support for the teaching volunteers.
In addition, our Stepping Up program team is preparing Home Classroom computer lessons so that children can continue to study digital literacy at home.
Stepping Stones was established in 2006 and is registered in Shanghai as a non-profit organisation. The organisation's mission is to improve the education and general welfare of disadvantaged children in China. Over more than 10 years, Stepping Stones has provided high-quality English lessons to children in schools and community centres in Shanghai and other provinces, by recruiting, training and deploying volunteers from all over the world.
In recent years, Stepping Stones has developed computer and life skills courses for primary and middle school students, and online English courses to reach children in remote areas, as well as professional training for local school English teachers. Currently, Stepping Stones has more than 300 volunteers teaching more than 5,000 students each week at more than 40 teaching sites, including schools in 10 other provinces.
Our expected impacts are increases in student's skills, interest and confidence to optimise their access to a higher level of education and better work opportunities in the future.