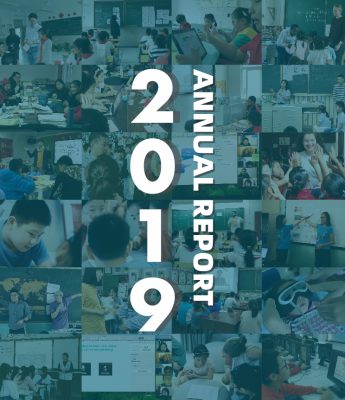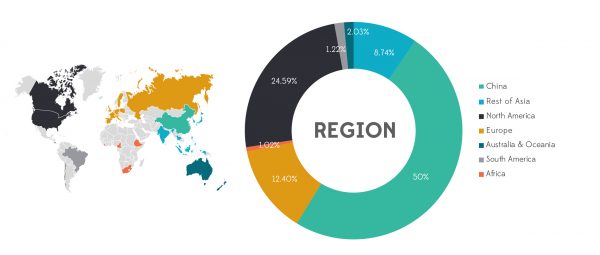 In 2019, 1,350 people volunteered with Stepping Stones from 34 different countries and regions and from all walks of life. Thanks to them, we are proud to announce that we have achieved and even exceeded all the goals proposed at the beginning of the year!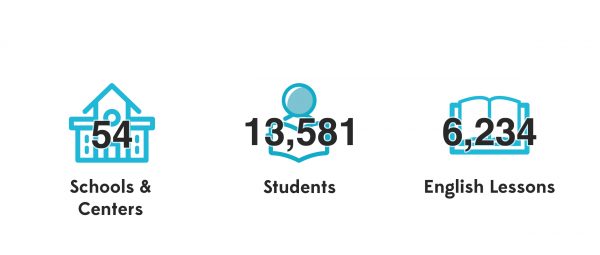 Our volunteers delivered 6,234 English lessons to 13,581 disadvantaged children at 33 project sites in Shanghai, as well as in 21 sites in 9 other provinces.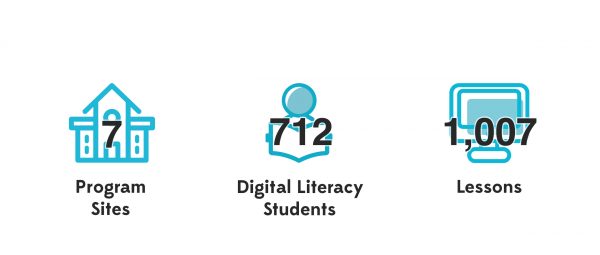 Our Stepping Up program's teachers and volunteers provided 1,007 digital literacy lessons to 712 students at 7 teaching sites in Zhejiang Province, Jiangsu Province and Shanghai.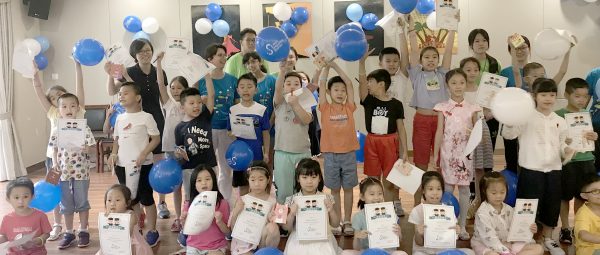 Our corporate and summer camp volunteers delivered 473 lessons in subjects other than English and digital literacy – such as arts and crafts, music, drama, science, geography, dance, life skills, environment and martial arts – to 299 students in Shanghai.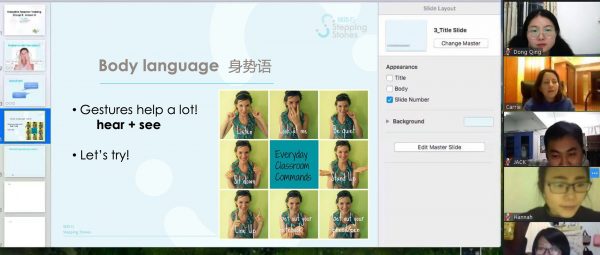 Our training professionals supplied training and follow-up support to 74 English teachers, impacting more than 9,000 children each year.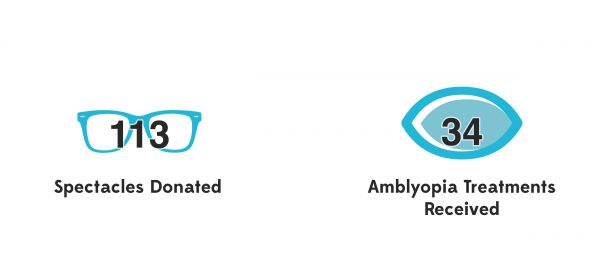 Our I Care Program donated spectacles to 113 children and youth, and covered most of the costs of amblyopia treatment for 34 children.
Our program sites increased. In 2019, the Stepping Stones English Teaching program opened three new sites in Shanghai, including one school and two community centers. The Stepping Stones Videolink program was expanded remarkably to 12 schools and community centers in other areas, including a primary school in the remote mountainous area of Southwest China. Furthermore, our Stepping Up program was extended to seven sites with the efforts of more regular volunteer teachers.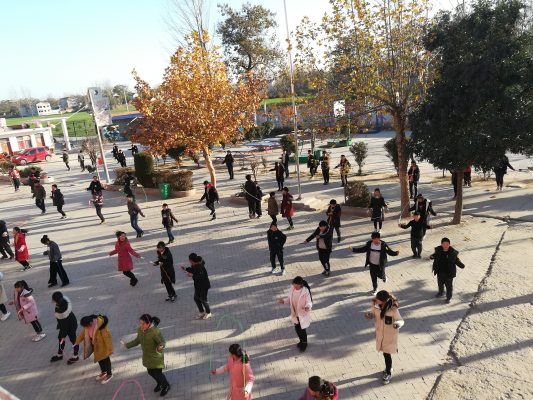 We reached out to more disadvantaged groups. In addition to our regular beneficiaries, we started to develop a program for children with special needs at Qingcongquan School for autistic children in Shanghai, assisted by a volunteer who had experience in this area.
We worked with more organizations. While maintaining good relationships with all the existing partners, we also started to develop new cooperation with more organizations. Through a new collaboration with Xiezuozhe, a non-profit organization based in Nanjing, Jiangsu our volunteers taught English to migrant children in the area. We also started a new collaboration with an English tuition center which opened charity classes for disadvantaged children in the small town of Pucheng in Fujian Province. And we were delighted to share our 14 years of experience and operational expertise with Mother's English, a non-profit English teaching organization in Dalian.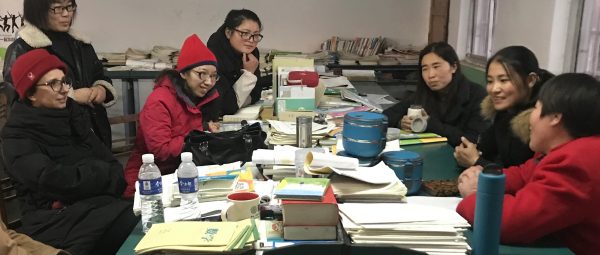 Our confidence in the quality of our program is strengthened as well. In the winter of 2019, our executive director visited primary schools in small towns and villages of Henan and Jiangxi provinces. She witnessed and was impressed by the huge change that the English teaching of Stepping Stones brought to local pupils. At the same time, the evaluation of our programs continued to demonstrate the positive impact of our interventions. As was the case in previous years, the 2019 impact assessments – which were conducted at 18 program sites – revealed that students' confidence in speaking English, students' interest in learning English and the confidence of teachers trained by us substantially increased. We also conducted a pre- and post- assessment to evaluate students' progress in oral English for the first time over the course of one semester in Spring 2019. The outcome reveals a big improvement in the average level of English speaking, especially for grade 3 students, whose average score has risen between the baseline and follow-up speaking assessments, from 0.94 to 2.40 (3 represents complete oral proficiency).
It is also worth mentioning that in 2019 we introduced the new Videolink Curriculum and a full set of 120 new videolink PPTs (24 lessons per year for 5 student levels) and improved the volunteer training materials as well, helping our volunteers teach more effectively with more professional materials.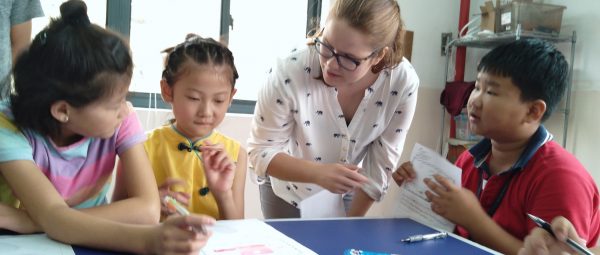 Of course, it would be impossible to make those achievements without the efforts of our volunteers. As well as teaching English, digital literacy or other subjects to our students, they also take a myriad of other roles, including fundraising, communications, design, photography, curriculum development, volunteer coordination, translation, etc. Many volunteers shared touching stories and provided valuable feedback and testimonies, helping to enhance the influence of Stepping Stones. Given the increasing numbers of volunteers, thanks to funding from Porsche, we were also able to build a new volunteer management platform in 2019, allowing us greater efficiency in the coordination of volunteers.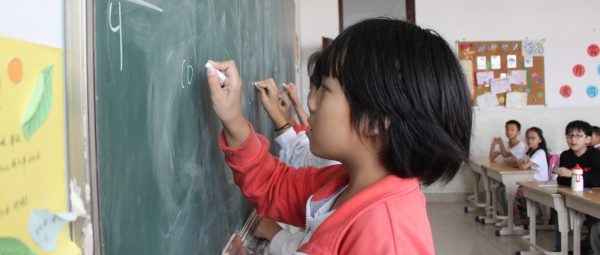 Certainly, all these would not happen without our generous donors. Thanks to all individual and corporate donors and foundation partners, Stepping Stones was able to continuously develop and improve our program, and explore new ways to serve more children sustainably.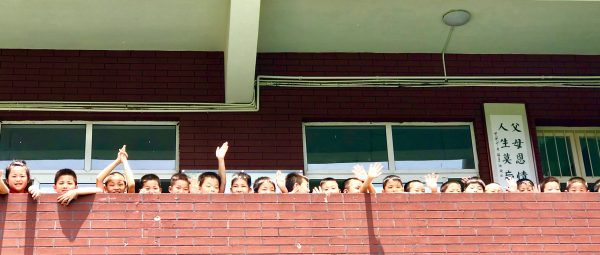 2019 was Stepping Stones' 14th year. With the huge uncertainty haunting the world in the spring of 2020, looking back at what we have achieved in the past, we feel not only humility but also responsibility. In a confusing world, where one can feel powerless, positive action in our local community can offer us hope and meaning. In the year of 2020, Stepping Stones looks forward to continuing to work with you to fulfill our mission of serving disadvantaged children and youth in China by providing a better education and more possibilities for their future.
For the full text of the 2019 Stepping Stones Annual Report, please click here.