We are often moved by seeing volunteers teaching in remote countryside. But the reality is that we have a limited supply of volunteer teachers, and each one can stay with the children for only a limited time. So we must not overlook the more sustained and long-term role played by the hard-working and under-supported English teachers in the rural schools.
Since 2006, Stepping Stones has been committed to bringing high quality English teaching to disadvantaged children in China. But we recognise the limitations of volunteerism, and the importance of improving the daily English learning experience of the majority of Chinese children, who cannot all be reached by our volunteers.

With this in mind, we launched our VTT (Videolink Teacher Training) project, to train and support English teachers in remote rural areas, and to improve English education in the countryside permanently and sustainably.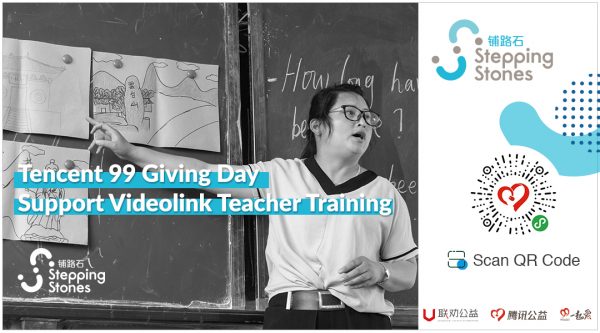 The rural teachers value this training and support so highly that they are willing to sacrifice their weekend time, without any expectation of material reward. They are excited about this opportunity to improve their teaching and deliver a better education to their students. We feel inspired and rewarded by the passion and dedication of these teachers.
Two years since we launched the program, we have successfully trained 55 rural teachers through our online training platform, benefitting thousands of students in Anhui, Henan, Hunan, Jiangxi and Sichuan. 
Now this program faces a crisis: by Chinese New Year, funding for this project will come to an end. We are determined to sustain this project so that we can train more teachers and in turn deliver a better education to many more rural students.
That's why we are now raising money for next year's training. We plan to train 30 more teachers in order to benefit 6,000 more students in 2020.
One rural teacher will educate on average at least 200 students per year. Therefore, to support one teacher's training means to give 200 students a chance of better learning opportunities.
The training cost for each teacher is 7,000 yuan/year, including the cost of professional trainers to deliver 24 online training sessions, as well as 6 week-long site visits for monitoring and ensuring the effectiveness of the training.
This year, we are proud to work with Tencent "99 Giving Day" to raise the money. The fundraising event will last from 7 to 9 September. Our target is to raise 210,000 yuan to cover the training of 30 rural teachers for a year.

For the cost of just one cup of coffee per child, let's give 6,000 children a bit of a head-start! It will cost only 6,000 cups of coffee!

A better education for one rural child for the cost of only one cup of coffee. 

Let's do it!
For donation, please scan the QR